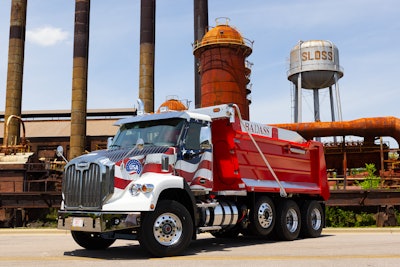 Autocar
Autocar announced its BADASS truck line today, the fourth iteration of the company's DC-64 severe-duty Class 8 trucks.
The BADASS DC-64D is a dump model that joins the DC-64R refuse, DC-64M mixer and DC-64P pump.
"The DC-64D is expertly configured and solves many industry issues not addressed by other suppliers," said Eric Schwartz, president of Autocar Truck. "Unlike any other vehicle in the North American heavy-duty commercial truck market, Autocar Trucks are vocational preengineered for seamless body integration and don't require significant structural modifications. As such, our trucks are safer, more structurally As such, our As such, our trucks are safer, more structurally sound and are engineered to have a longer life which lowers the TCO (total cost of ownership) and adds to our Always Up promise. This dump truck is truly BADASS."
[Related: Huge lift turns all trucks into a dump truck]
The DC-64D has been configured with more than 100 improvements. Autocar partners with dump body manufacturers for parallel engineering of essential dump body mount features. The truck is outfitted with an RS Godwin SCS dump body and features Hardox steel for durability and lighter weight which leads to additional payload capacity.
Inside the cab, a 7-inch driver information smart display is designed to help minimize driver distraction and help technicians quickly get drivers back on the road after maintenance. Autocar has the only 325-degree all-around driver visibility, 30 percent more glass than industry competition, including the only Class 8 vocational truck with rear-corner wrap-around windows to improve the rearward view. The front end is sloped to enhance visibility.
The DC-64D, assembled in Birmingham, Ala., is available now with the Cummins L9, X12 and ISX12N CNG series engines. The X15 will be available in 2022.