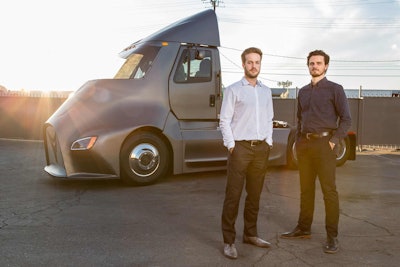 Photo: Thor Trucks CEO Dakota Semlar's LinkedIn page
Don't blink. You might just miss another new Class 8 electric truck.
This week, Thor Trucks, an L.A.-based startup founded by two twenty-somethings, unveiled its first battery-powered big rig, the ET-One, which starts around $150,000 with a 100-mile range.
Okay, so right off the bat, that's remarkably lower than Tesla's Semi, which also starts at $150K, but offers three times the range. (Watch ET-One in action in a video below.)
Nonetheless, Thor Trucks CEO and founder Dakota Semlar and his partner, COO Giordano Sordoni, are serious about making the ET-One competitive in a strange, but intriguing space where vision, intestinal fortitude, a gift for gab, government help and a wafting green cape can help make up–at least for a little while–important questions pertaining to charging infrastructure, service and distribution.
But hey, you've got to start somewhere.
"We wanted to show the world that you don't have to be a big original equipment manufacturer, like a Ford or GM, or a tech mogul with deep pockets to start making progress in this space," Semlar posted on his LinkedIn page today. "With no outside funding, we assembled a team of experienced, gutsy, and passionate engineers and went to work researching and designing the ET-One in-house.
"This meant rearranging and retrofitting old chassis, experimenting with new battery design, and constantly iterating on our learnings," Semlar continued. "It was scrappy, it was challenging, but it was also fun, and now we have an electric semi that is on the road and is on its way to being cost-competitive with and much simpler and more stable from an engineering perspective than the diesel guzzlers that currently dominate the heavy-duty fleet space."
No buyers or business partners have been announced. The truck will not be sold until service and parts distribution plans are in place. No word on how long that may take. Thor will sell the truck online or through a dealership, though no dealer arrangements have yet been made.
Some of the truck's highlights posted on Thor's website include:
Production slated for 2019; pre-ordering will be available
Up to 30 percent more power than diesel
Connected for advanced vehicle prognostics
Up to 30 percent lower cost of ownership
Up to 50 percent lower maintenance costs
Zero regulations facing EV emissions
Vehicle ranges up to 300 miles for short haul and regional tractors and trucks
Powertrain options range from 300 to 700 horsepower
Regenerative braking and onboard safety systems
Charge time from depletion to full is 90 minutes
Max battery configuration allows up to 300 miles of range
Price ranges from $150,000 to $250,000
EV-One will be available for lease
You've got to appreciate the company's drive to improve their truck:
"Thor is looking forward to new battery technologies that have potential to allow for rapid charging or longer ranges," a statement reads on their website. "We are ready to adapt to new technologies as they are commercially viable."
Of course, like everyone else, Thor's eager to see the next super battery that will conquer fears of range and slow charge times. That's been the challenge for years. In the meantime, as reported by electrek.co, range starts at 100 miles with the $150K version.
As with the Tesla Semi, there's no mention of the ET-One's truck weight. While it's listed as an 80,000-lb. hauler, it's unclear how much of that is comprised of battery weight.
Will the ET-One really go anywhere? Who knows? Though Semlar and Sordoni are only in their mid-twenties and have no engineering background, they've surrounded themselves with some impressive talent, including former engineers from BYD and US Hybrid. Still interested? Sign up for a demo on their website.