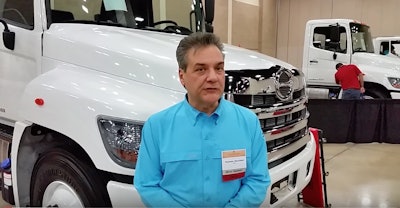 You've got three problems with a truck and only 45 minutes to fix them all.
But what if it only takes you 17 minutes and 42 seconds?
Well, then that's the guy you want on your team, and in this case, Rush Truck Centers and Hino is lucky to have him.
Tom Marchini, senior manager of training at Hino, said it was veteran mechanic Steven Brain from Dallas who nailed that time while working on a medium-duty Hino 268. It's the best time that Marchini has seen in the nine years that he's been assisting at the annual Rush Truck Centers Tech Skills Rodeo. Brain is listed as a Hino finalist along with Billy Stanley from the Rush Truck Center in Houston. (See the list below for other finalists.)
"I have noticed that the more experienced guys are really getting fast at diagnosing problems on the truck because they've got more time on the Hino product and the way we can make the truck fail is kind of in a little bit of a box now," Marchini said. "So, they're getting a little smarter and we're having a harder time challenging them."
Though it's doubtful that Marchini will see a better time than that this week, technicians, regardless of their completion time, will have a chance later to meet with Hino service reps to discuss their work on the truck.
"I would say over time they are definitely improving," Marchini said.
Hear the rest of Marchini's comments in the video below.
Note: This story has been updated from an earlier version.
2017 Rush Truck Tech Rodeo Finalists
Heavy Duty
Navistar
Andrew Frieling, Rush Truck Center – Joliet
Maciej Gal, Rush Truck Center – Chicago
Dylan Moser, Rush Truck Center – Richmond
Vocational
Carl Trevino, Custom Vehicle Solutions
Travis Webster, Rush Truck Center – Houston Medium-Duty
PACCAR MX
Glenn Boothe, Rush Truck Center – Nashville
Eduardo Gutierrez, Rush Truck Center – Phoenix
Johnny Mendez, Rush Truck Center – San Antonio
Cummins
Wesley Appleton, Rush Truck Center – Odessa
Michael Jones, Rush Truck Center – Tucson
Erick Lincoln, Rush Truck Center – Albuquerque
Alternative Fuels
Matt Chilson Rush Truck Center – Houston Northwest
Gonzalo Uribe, Rush Truck Center – Fontana Vocational Services
Eaton
Sylvester Chandler, Rush Truck Center – Dallas
Peter Dezwart, Rush Truck Center – Doraville
Jason Swann, Rush Truck Center – Dallas
Medium-Duty
Bus
Derrick Kollin, Rush Truck Center – Cincinnati
Barry Thompson, Rush Bus Center – Dallas
Hino
Steven Brain, Rush Truck Center – Dallas Medium-Duty
Billy Stanley, Rush Truck Center – Houston
International
Justin Euler, Rush Truck Center – St. Peters
Tom Hamilton, Rush Truck Center – Smyrna
Isuzu
Mark Smith, Rush Truck Center – Doraville
Kory Sangster, Rush Truck Center – Dallas Light- and Medium-Duty
Peterbilt
Louis Fontano, Rush Truck Center – Fontana
Travis Graham, Rush Truck Center – Orlando
Parts Finalists (representing all Parts categories)
Timothy Howard, Rush Truck Center – Las Vegas
Michael Lyles, Rush Truck Center – Phoenix
Tom Murray, Rush Truck Center – Gary
John O'Brien, Rush Truck Center – Orlando South
David Zainfeld, Rush Truck Center – Houston