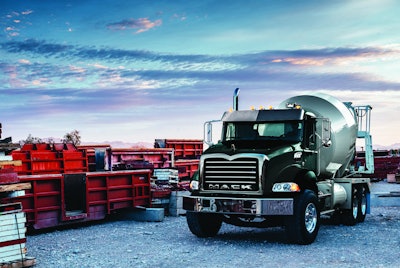 Mack Trucks is offering customers with concrete mixer applications a lighter-weight solution to meet their demanding needs.
The Mack Granite model, equipped with the 2017 Mack MP7 11-liter engine and the Mack mDRIVE HD 14-speed automated manual transmission with creeper gears, is lighter than its predecessor.
"The Mack Granite model has always handled the most challenging jobs, which is why it was the number one selling Class 8 heavy duty conventional straight truck in the U.S. in 2015 based on Polk data," said Tim Wrinkle, Mack construction product manager.
"Now with our 2017 powertrain, the Granite is helping increase our customers' return on their investment through improved efficiency, performance and reliability."
Mack's 11-liter MP7 engine received a number of advancements for 2017 designed to simplify maintenance and improve efficiency. The MP7 is about 51 pounds lighter with up to 425 horsepower and 1,560 lb.-ft. of torque.
The engine features an updated wave piston design that, in conjunction with the new common-rail fuel injection system, enables more complete combustion of fuel resulting in reduced emissions and improved efficiency. Combined with a two-speed coolant pump, these features help increase MP7 fuel efficiency by up to 2.1 percent.
"The Mack MP7 offers the power and performance to manage any task, but in a smaller displacement engine to provide weight savings," Wrinkle said. "The integration with the Mack mDRIVE HD 14-speed allows for seamless communication among components so that the vehicle is always in the right gear without the driver having to manually shift, reducing driver fatigue and increasing safety. It also provides a deep ratio of 32:1 in the lowest creep gear to facilitate low speed functionality such as curb pouring when needed."
Mack was the first truck manufacturer in North America to offer low reduction gear ratios in a proprietary automated manual transmission. Along with the Mack mDRIVE HD 14-speed, Mack also offers the mDRIVE HD 13-speed, meeting the needs of an even wider range of customer applications with the performance that only a fully integrated powertrain can offer.
The mDRIVE HD with creeper gears is approximately 150 pounds lighter than an automatic transmission. Mack Granite models for concrete mixer applications also come standard with Mack ClearTech One, a single-package Exhaust After Treatment System (EATS) that frees up frame rail space and reduces weight by approximately 17 pounds.
With Mack ClearTech One, the diesel particulate filter (DPF), selective catalytic reduction (SCR) technology and diesel exhaust fluid (DEF) dosing system are all combined into one unit. With the rail space gained, customers have more space to add water tanks and chutes with more wheelbase flexibility than before.
Mack Granite mixers come ready for upfit right from the factory with a rear-engine PTO, a special mixer crossmember designed for mounting of the mixer barrel pump, frame rail transition plates for mixer body mounting and an additional access panel in the cab floor to service the rear-engine PTO.
Mack's BodyLink III bodybuilder connector simplifies the installation of the body to the chassis and facilitates communication to the truck ECU without compromising quality from bodybuilder wire splicing. Post block terminals are also conveniently located in the top of the dash for additional connection points.
All Mack Granite models are backed by Mack GuardDog Connect, Mack's proactive diagnostic and repair planning system. The telematics system monitors fault codes that could potentially shut down a truck or lead to an unplanned visit to the dealer. GuardDog Connect enables quick diagnosis of issues, proactive scheduling for repairs and confirmation that needed parts are in stock and ready to install, all while the truck is still on the job.
Along with Uptime support, Mack has also made strides to simplify body builder support services. Mack has a body builder support group that offers access to Mack product experts who can answer questions that may arise while spec'ing a truck or during the body upfit process. The group also addresses customer inquiries after a vehicle is in service.