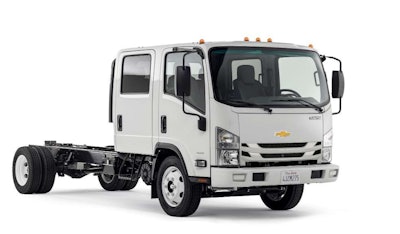 General Motors' exit from the low cab forward medium-duty market lasted roughly five years. The Detroit automaker announced Monday the company would bring the trucks back with six models beginning with the 2016 model year.
The Chevrolet 3500, 3500HD, 4500, 4500HD, 5500 and 5500 HD are based on Isuzu's N-Series, and GM says the company will receive the rebadged trucks from Isuzu directly and distribute them through Chevrolet dealers.
Isuzu and Chevrolet have long been partners in the North American medium-duty market, and it was Isuzu's N-Series which helped GM wind down production of its W-Series cabover.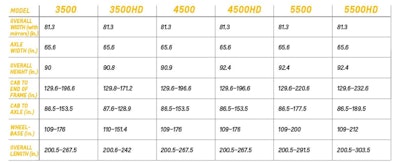 Ed Peper, U.S. vice president of GM Fleet and Commercial Sales, says the new trucks will be offered in regular-cab and crew-cab body styles and in chassis lengths ranging from 109 inches to 212 inches.
Peper says the 3500 and 4500 model trucks will be available with a 6.0-liter V-8 Chevrolet gas engine and six-speed automatic transmission. An Isuzu-sourced 3.0-liter will be available in 3500HD models and an Isuzu-sourced 5.2-liter turbo-diesel engines will be available in 4500HD, 5500 and 5500HD models.
Regular cab only will be available in 3500HD and 5500HD models. All other models will feature a regular or crew cab option.
Gas-powered models will be assembled in the United States in Charlotte, Mich.
Peper adds Chevrolet cabover models will be compatible with a variety of body types, including refrigerated box, stake/flat bed and service bodies, and that the engine compartment will feature a 45-degree-tilting cab.