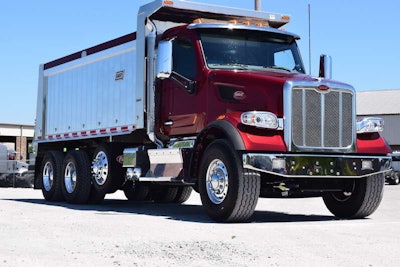 By Jack Roberts
As versatile as they are, trucks simply cannot be all things to all fleets. So, not long after a new truck appears on the market, it's only natural that new models based off that design start to show up.
That's the case with Peterbilt's new Model 567 Bridge Formula model, which I was fortunate enough test drive on a fine spring day not long ago.
In terms of evolution, this new design is not a quantum leap forward. The most significant enhancement is the repositioning of the front axle 17.5 inches forward in order to achieve a better center of gravity and payload balance for mixers and trucks specifically working on bridge jobsites. Deeper wheel cuts also allow for greater maneuverability in tight working confines. But the Model 567 still retains the design cues and style accents Peterbilt pioneered with its highway/long-haul Model 579.
The truck retains the 579's aggressively sloped hood, although the primary benefit here is excellent forward visibility instead of aerodynamics. And the interior, while spec'd for construction work, still features a sound-dampened cab for extremely quiet drives, infinitely-adjustable steering wheel, modern dash with upgraded driver information display in the center console and Paccar's excellent air-ride seat with automatic lower/raise function and programmable memory return to preselected drive height.
Our host for the test drive was Peterbilt Truck Center of Birmingham with a beautiful crimson-colored dump truck waiting for us in front of the building (this is Alabama, after all). The dealer's location near the Birmingham International Airport gave us a good mix a highway and local roads to test the Model 567 Bridge Formula on, and the truck did not disappoint.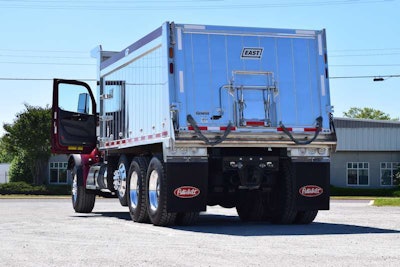 Up close, the Bridge Formula model appears nearly identical to a standard Model 567.
Out on the highway, the set-forward axle configuration provided an extremely smooth ride with the Paccar MX13 diesel engine providing plenty of power: acceleration was smooth and the truck easily keeps up with the flow of traffic on crowded city roadways. If you read my test drives, you know I am a big fan of automated manual and fully automatic transmissions. Our test truck was outfitted with Allison's excellent TC10 vocationally-spec'd automatic transmission. It's performance in heavy traffic was flawless – and the automotive style shift lever is a nice touch.
Model 567s are a delight to drive with outstanding comfort options and unparalleled views from the cab. The Bridge Formula version of the truck takes nothing away from this winning equation and adds to it with a smoother ride and tighter low-speed maneuverability – winning traits by any construction fleet standard.