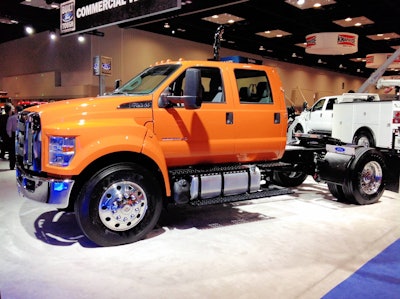 All-New Ford F-650/F-750 medium-duties more powerful and quieter on the ears
Who'd thought some day medium-duty trucks would be as comfortable, quiet and powerful as their heavy-duty pickup counterparts. Ford, that's who.
And their all-new Ford F-650/F-750 medium-duty commercial trucks are rolling proof.
Ford says the new trucks, which are now in production, incorporated a good portion of the 2015 Ford Super Duty design to give drivers and their customers a quieter, more comfortable experience inside and out.
Thanks to its exclusive Ford-designed and -built 6.7-liter Power Stroke V8 turbocharged diesel engine, (also the same as found in the Super Duties) those inside and outside the truck will notice a quieter, more refined sound compared to the previous F-650/F-750's diesel engine.
"Our all-new F-650/F-750 medium-duty trucks are purpose-built to give our hardworking vocational customers maximum capability," said John Ruppert, general manager, Ford Commercial Vehicle Sales and Marketing.
"While the truck is able to work harder, we also made life inside the cab easier. Lowering in-cab and exterior noise levels improves driver comfort and minimizes disturbances while idling at work sites."
The 2016 Ford F-650/F-750 powered by the Ford-designed and -built 6.7-liter Power Stroke V8 diesel engine is 25 percent quieter inside the cabin at 60 mph than the previous model, with noise levels dropping to 68 decibels from 74 decibels.
At idle, noise levels are improved as much as 45 percent, dropping to 48 decibels from 63 decibels.
Decibels measure the intensity and power of sound. Each 10-unit increase represents a 10-fold increase in sound power, so a 10 decibel sound is 10 times more powerful than a zero decibel sound, and 20 decibels is 100 times stronger than zero decibels.
Advanced and quiet diesel engine
The 2016 Ford F-650/F-750 with the available 6.7-liter Power Stroke V8 diesel engine is 35 percent quieter at idle than the previous model for a listener standing outside in front of the grille.
Ford is the only medium-duty truck manufacturer that designs and builds its own diesel engine and transmission combination – ensuring the powertrain will work seamlessly with all chassis components and vehicle calibrations.
Specific design upgrades were made to the fuel injectors to optimize the combustion process, which features a two-stage combustion event instead of a single-injection event, further avoiding harsh, sudden and loud combustion.
A starter or pilot fuel injector in the 6.7-liter engine begins the compression process before the main injection. The result is smoother combustion with less diesel clatter and a reduction of intrusive engine sound both inside and outside the truck.
At idle, two pilot injection events are used to make the firing process even smoother and to aid in quietness. The "ticking" of the high-speed injectors is masked by specially designed covers on the engine.
Mounting the engine's turbocharger inside the engine block valley also brings improvements in overall noise, vibration and harshness.
"We used smart engineering and our unique Power Stroke engine architecture to create a powerful yet quiet diesel for our commercial customers," said John Davis, chief engineer, Ford Commercial Vehicles. WATCH VIDEO INTERVIEW
In addition to its Power Stroke diesel engine, Ford remains the only automaker in the segment to offer a gasoline-powered engine for a medium-duty truck.
The 6.8-liter V10 engine with 320 horsepower and 460 lb.-ft. of torque is now available for both F-650 and F-750 models with the TorqShift® heavy-duty six-speed automatic transmission.
The 6.8-liter V10 engine can be factory-prepped for converting to compressed natural gas or propane autogas as cost-effective alternatives to gasoline.