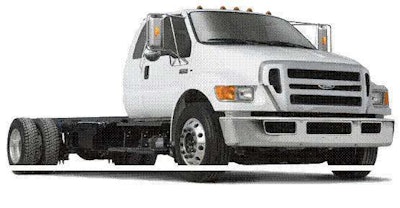 ROUSH CleanTech is now taking orders for the Ford F-650 propane autogas fuel system, with production plans in October.
"At half the cost of diesel and with virtually no particulate emissions, fueling with propane autogas offers valuable benefits to fleet managers in many industries," Todd Mouw, vice president of sales and marketing for ROUSH CleanTech, says.
The truck is offered in two tank size configurations – 80 gallon for trucks equipped with non-skirted bodies, and a 45 gallon tank for skirted bodies.
The dual "saddle" tank design features a single refueling point, replacing the gasoline tank location.
Historically, propane autogas costs up to 40 percent less than gasoline and about 50 percent less than diesel. Federal tax credits provide an additional $.50 per gallon savings.
Over a 200,000-mile lifecycle, a typical fleet can expect to see fuel cost savings of $50,000 or more by operating a ROUSH CleanTech propane autogas Ford F-650.
"The new ROUSH CleanTech Ford F-650 is yet another example of the versatility of abundant, clean and price-competitive propane autogas," said Roy Willis, president and CEO of the Propane Education & Research Council, which co-funded development of the fuel system.
With up to 30,000 gross vehicle weight rating, the propane autogas Ford F-650 delivers similar horsepower, torque and towing as its gasoline counterpart and fulfills California Air Resources Board and Environmental Protection Agency certifications.
"Ford is the market leader in commercial trucks and vans, and continues to strengthen that position by offering a full line of commercial vehicles prepped from the factory with gaseous fuel-ready engines. From Ford F-250 through F-650, and E-150 through E-450, fleets can experience the benefits of this great alternative fuel in multiple configurations," said Mouw.
Ford's gaseous fuels prep package offers hardened valves and valve seats for improved wear resistance and durability. Ford warranty remains intact when installing fuel systems from manufacturers with the Ford QVM designation.
A Tier 1 supplier, ROUSH CleanTech is the first and only Ford Qualified Vehicle Modifier (QVM) manufacturer offering dedicated propane autogas fuel systems.