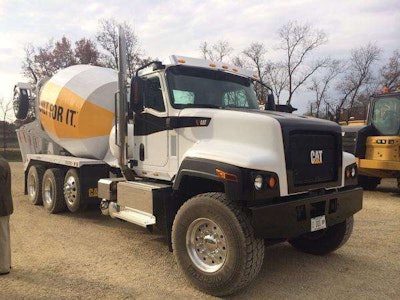 Caterpillar added a second model to its new line of vocationally-focused work trucks with the unveiling of the Class 8 CT681 truck Thursday at the company's Edwards Proving Grounds outside of Peoria, Ill.
Caterpillar first previewed the new truck at the ConExpo Show in Las Vegas earlier this year. The Edwards launch Thursday gave enhanced details on new truck while noting it has entered into full production.
The CT681 borrows heavily from the existing CT660 model, but also features a host of enhancements designed specifically for tough vocational applications such as snowplow, mixer, dump and super dump. The truck features a set-forward front axle for a longer wheelbase with a 114-inch BBC measurement.
Caterpillar Global on-highway product manager Dave Schmitz says this configuration offers better ride quality on both long hauls and rough dirt roads while giving body-builders more flexibility and room for behind-the-cab installations.
Power is provided by CAT's CT Series Vocational Truck Engine family, with several ratings from 365 to 430 horsepower available. Schmitz says CAT's truck engine philosophy is "still evolving," but says additional, higher horsepower ratings will appear in the near future.
It is possible this could be as early as next year, coinciding with the launch of the next Caterpillar truck, the CT680, which Schmitz says will be a stylistic departure from the CT660 and CT681.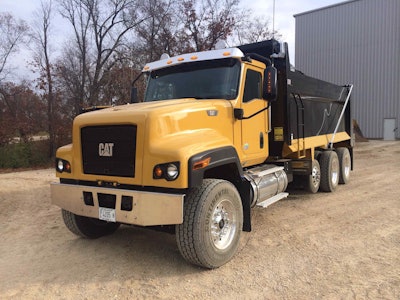 The CT681 has already made a move away from the CT660 in terms of appearance. The new truck features a more robust, spartan look. The wheel loader-inspired, brushed aluminum grill guard and trim that give the CT660 such as distinctive look have been abandoned on the CT681. Schmitz says this move was necessary to accommodate the CT681's new, higher, radiator configuration and simplify front engine PTO access.
The CT681's engine can be spec'd with CAT's proprietary CX31 automatic transmission. Schmitz says that today, more than half of all new CAT trucks are rolling off the factory floor with the CX31, which features a high power-to-weight ratio, full power shifting and quick acceleration. The transmission has been fully integrated with the CT Engine series to deliver optimal fuel economy or power to meet any type of terrain or road conditions.
(Jack Roberts is equipment editor for Successful Dealer's sister publication, CCJ.)