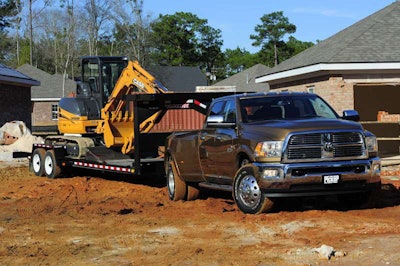 Single-family housing production in October reached its highest level since November 2013 while the more volatile multifamily sector brought combined nationwide starts activity down 2.8 percent, according to newly released figures from the U.S. Department of Housing and Urban Development and the U.S. Census Bureau.
"The rise in single-family starts is more proof that the economy is firming and consumer confidence is growing," says Kevin Kelly, chairman of the National Association of Home Builders and a home builder and developer from Wilmington, Del. "We expect continued upward momentum into next year."
The 2.8 percent decline in overall starts in October was due primarily to a 15.4 percent decline on the multifamily side, which brought that sector's annual production pace to 313,000 units on a seasonally adjusted annual basis.
Meanwhile, single-family starts posted a 4.6 percent gain to 696,000 units.
Regionally in October, combined housing production dropped in Northeast, Midwest and West, with respective losses of 16.4 percent, 18.5 percent and 10.9 percent. Total production rose in the South by 10.1 percent.
Issuance of building permits registered a 4.8 percent gain to a seasonally adjusted annual rate of 1.08 million units in October. Multifamily permits rose 10 percent to 440,000 units while single-family permits increased 1.4 percent to 640,000 units.
Regionally, the Northeast and Midwest registered overall permit losses of 21.5 percent and 11.4 percent, respectively. The South and West posted respective gains of 8.8 percent and 21.6 percent.
Consequently, builder confidence in the market for newly built single-family homes rose four points to 58 on the latest NAHB Wells Fargo Housing Market Index.
"Low interest rates, affordable home prices and solid job creation are contributing to a steady housing recovery," says NAHB Chief Economist David Crowe. "After a slow start to the year, the HMI has remained above the 50-point benchmark for five consecutive months, and we expect the momentum to continue into 2015."
Looking at the three-month moving averages for regional HMI scores, the Northeast rose three points to 44, the South posted a four-point gain to 62, and the West edged up one point to 58. The Midwest registered a two-point loss to 57.