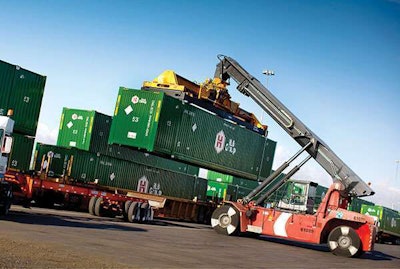 Facing a pair of lawsuits over worker misclassification, intermodal giant Hub Group Inc. will be converting its drayage drivers in California from independent contractors to employees, the $3.4 billion company reported this week.
In an investor filing with the U.S. Securities and Exchange Commission, the Oak Brook, Ill.-based Hub Group stated that its California contract drivers were properly classified. Nonetheless, noting that lawsuits are "expensive, time-consuming and could interrupt our business operations," the company also reported it has made offers to settle lawsuits against subsidiary Comtrak Logistics, now known as Hub Group Trucking.
The report comes on the heels of a federal appeals court ruling that independent contractors working for FedEx Ground in California and Oregon should be classified as employees.
"We did this because there was a fair amount of uncertainty in the legal climate in the state," Hub Group Vice Chairman, President and COO Mark Yeager said Wednesday, speaking at the RBC Capital Markets' Global Industrials Conference in Las Vegas. "We felt the most prudent thing to do was to transition our model at this time. It's been successful thus far."
"California's a unique situation for a lot of reasons, and it's particularly unfriendly towards this distinction between owner-operators and company drivers," Yeager said.
Hub Group estimates the settlement offer, if every driver accepts, will come to $9.5 million, with another $1 million for associated legal and transition costs.
The costs of an employee versus an owner-operator in California will be higher because of the way Hub chose to make the change, added CFO and Treasurer Terri Pizzuto.
"We made it easy for them and did the right thing – but it's California," she said, also from Las Vegas. "That's not to say that if we go to the employee model in other states it will cost us more. Oftentimes, the employee model is more cost beneficial than the owner-operator model; it just depends what state you're in."
Stifel analyst John Larkin suggests the change could open the door for organized labor.
"We believe the change leaves the company at a much higher risk for unionization going forward, especially considering drayage drivers come to work at the same facility every day and have a better ability to communicate and organize," Larkin wrote Thursday in a note to investors.
Extensive coverage of worker classification issues by Commercial Carrier Journal, HWT's sister publication, can be reviewed here.