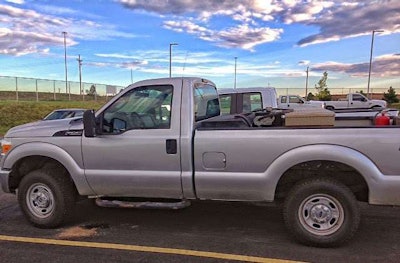 A day in the life of a bi-fuel pickup truck in Noble Energy's fleet includes getting around in the resource-rich Denver-Julesburg Basin, east of the Rocky Mountains in Colorado – putting about 1,800 miles a month on the hard working truck.
Noble Energy's fleet of over 100 natural gas trucks comprises roughly 10 per cent of its total U.S. fleet of about 700, mostly light-duty trucks.
The company began purchasing alternative fuel, light duty vehicles in 2009 and 2010.
Bobby Randolph, a Senior Purchasing Agent with Noble, says the number of public stations – where Noble's fleet fills up – has been steadily growing in Colorado.
"Colorado has expanded its network quite a bit and it's helped with the logistics of fuelling our fleet," he says. "We still need more [stations], but it's helping us out a lot."
Bobby says 85 per cent of the natural gas fleet is comprised of Ford vehicles, mostly Ford F-250 pickups with the bi-fuel Westport WiNG Power System. This configuration allows drivers to operate on either compressed natural gas or gasoline.
The trucks are used for oilfield operations – personnel such as lease operators and pumpers drive around the wells and inspect equipment daily, or several times daily.
Randolph notes the State of Colorado itself has been a vocal proponent of CNG-powered vehicles.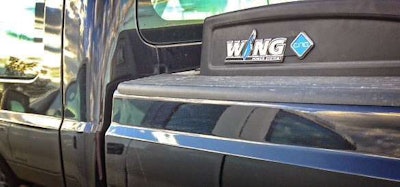 In 2011 Colorado Governor John Hickenlooper signed a Memorandum of Understanding with Oklahoma Governor Mary Fallin intended to decrease the cost and increase the number of NGVs in state fleets by pooling orders from multiple states.
According to the Colorado Energy Office, Arkansas, Kentucky, Louisiana, Maine, Mississippi, New Mexico, Ohio, Pennsylvania, Texas, Utah, Virginia, West Virginia, and Wyoming have joined the collaboration.
Looking ahead, Noble Energy plans to continue building up their CNG fleet.
"Over the last two or three years, the vehicles have been running pretty flawless," Randolph says. "We plan on ordering more F-250s."
For more information and stories of hard working, natural-gas powered trucks, visit the Westport blog, "fuel for thought."