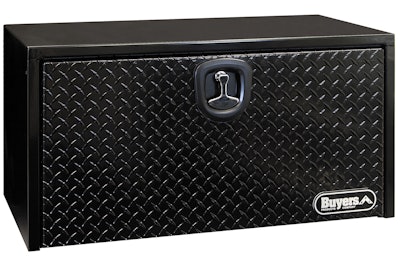 Buyers Products now offers its line of diamond tread aluminum toolboxes with powder coating.
The powder-coated aluminum toolboxes are standard in black. Buyers says powder coating increases the corrosion resistance of the toolboxes and can help customers achieve a desired aesthetic.
"At Buyers, we strive to offer the best toolbox storage solutions," says Brian Smith, marketing manager at Buyers Products. "By offering powder coating for the diamond tread aluminum, we can give our customers' storage solutions longer service life with protection against rust, corrosion and weather damage."
Buyers' underbody toolboxes are available in a range of sizes from 2.3- to 20-cubic ft. to provide extra, secure storage space underneath the bed of the truck to keep tools and other items secure and protected from moisture, water, dirt and road grime, the company says. The underbody toolboxes are available in barn door, recessed door and pullout drawer styles.
The popular cross boxes suspend from pickup side rails and provide easy access to contents from either side of the truck through two gull-wing style or single lids. Buyers Products says cross boxes come with J-hook mounting hardware that does not require drilling into truck side rails. Cross boxes are available in storage sizes from 6.8- to 19.1-cubic-ft.