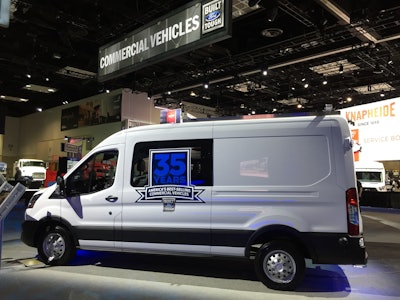 While the COVID-19 pandemic has brought production freezes along with huge sales losses for major auto manufacturers, at least three industry giants are reporting increased demand for vehicles that don't exactly play starring roles at local dealers.
Ford, GM and Ram have seen increased demand for vans that support pickup and delivery, which got a nice boost from increased ecommerce sales through growing shelter-in-place directives.
"We have seen some additional requests for additional Transit production in the package delivery vocation," said Elizabeth Kraft, Ford's commercial vehicle communications manager.
Ram also reported more vehicle sales that support online shopping.
"As for P&D, we have seen an uptick in vans and chassis applications for support, for sure," said Ram's spokesperson Trevor Dorchies. "I can't give exact figure but there's been a slight uptick for sure."
GM reported that its 2020 Chevy Express and 2020 GMC Savanna vans have sold out.
"The demand exceeded our current capacity," said GM spokesperson Chris Bonelli. "We have not begun taking orders for our 2021 vans yet, but plan to do so this summer, pending the length of the Coronavirus' impact on our production."
Some bargains may be had during the pandemic. Dealers have stepped up zero-down, interest free loans for 72 and 84 months for qualifying buyers.
"Nearly 20% of all loans in March were 84-month compared to 8% last month, so its acceptance as a mainstream option has exploded on the scene," said Tyson Jominy, vice-president at JD Power who leads the company's data and analytics consulting division.
"Not only are there great deals in market, and will be in the future, we are also seeing a shift to online sales from this event making buying a vehicle easier than ever," Jominy continued. "Dealers are willing to do all the negotiating over email or phone and the vehicle can be delivered to your home or place of business. You need not ever step in a dealership if you don't want – or in many states can't."
Both Ford and Ram said their current inventories are in good shape to support the pick up and delivery uptick. Jominy agreed.
"Large and small commercial vans had more than sufficient stock on-hand when the virus first hit at the end of February, so there's certainly no reason to speed up a purchase if it isn't necessary," he said. "After nearly a month of coronavirus lockdown, there is no supply shortages yet. Even with the shutdowns of all assembly plants in the U.S., these are expected to be temporary in nature."
While encouraging, it'll take a lot more than a promising P&D market to get auto sales back on target. Stay-at-home directives may lead to about an 80% drop from forecast and could result in 2 to 3.5 million lost vehicle sales this year, Jominy said.