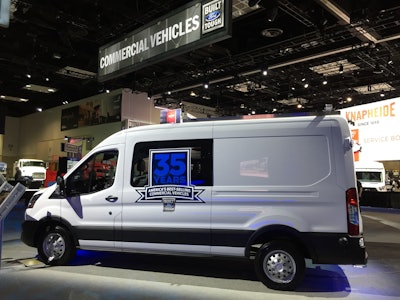 As part of its $11.5 billion plan for vehicle electrification, Ford announced today at The Work Truck Show in Indianapolis that Ford Transit will be joining the iconic Mustang and F-150 with an all-electric powertrain.
Starting with model year 2022, an all-electric Transit will be available in various configurations including cargo van, cutaway, chassis cab, three roof heights and three body lengths.
"This is a very good, exciting thing for many of our commercial customers," Ted Cannis, Ford's director of global electrification, announced at Ford's booth inside the Indiana Convention Center. "We have a lot of excited people working on it. The prototypes are fantastic."
All-electric powertrains mean significantly less scheduled maintenance than internal combustion engines, plus lower operating costs.
"The fuel savings are significant," Cannis said. "U.S. Department of Energy says it's half or less than the cost of running an internal combustion engine. In some states where the cost of power is lower, it can be even more than that. So fuel savings are definitely a part of the equation and then there's the constant uptime you can get in a battery-electric vehicle. You have low maintenance, there's less parts, there's no oil changes, there's no transmission fluid changes and obviously, there's no gas stations. A lot of that work can be done at home so can operate longer and on your schedule which means better business for your business."
Electric vehicle fleets may benefit from federal, state and local electric vehicle tax rebates, access to high-occupancy vehicle lanes and free parking. Electric vehicles can operate where vans with internal combustion engines cannot, including indoors, in environments with limited ventilation, and at night in areas with restrictive noise ordinances.
"There are new applications and use cases that we've never had before," Cannis said. "Our customers know that and are calling for these."
Ford's resources will pave the way for access to over 12,500 charging stations and 3,000-plus dealers.
"Other guys may come up with an electric vehicle and it might be good, but they don't have the service and sales support that you need or the parts to keep uptime all the time," Cannis said. "Because if you're a commercial customer and this is your life, you cannot be down. You can't just risk it. This is the backbone of the business and one of the reasons we will clobber the competition."
Ford's U.S. truck and van fleet sales have grown 33 percent since 2015 and the company expects continued growth of van sales in the U.S. as e-commerce and "last mile" delivery increase. Ford's overall van sales delivered their best fourth quarter results since 1978 on sales of 59,930 vans. For the year, Ford van sales totaled 240,529 vehicles. Ford expects electric vehicles to grow to 8 percent of the industry in 2025 in the U.S.
Range, payload, charge times and other information on electric Transit will be released at a later date. Top range available in Ford's all-electric 2021 Mustang Mach-E SUV is 300 miles.
In other Transit news announced today, look for a 2.0-liter EcoBlu diesel engine later this year along with a Class 3 variant rated at 11,000-lb. GVWR. Other changes for 2021 Transit include an additional 8 inches of foot room thanks to shifter relocation and an electric parking brake takes the place of the manual brake which frees up access to the back of the van.
Starting with model year 2020, a modem comes standard with all Ford vehicles.
"This will open up a whole new world for fleets through Ford data services and Ford telematics so they can see real-time fuel savings and really get the tools and the analysis they need to lower their total cost of ownership," said Mark Buzzell, Ford's director of North American fleet, lease and remarketing operations.
"Fleet managers are going to move from being tactical to more strategic and the tools that we provide through the connected vehicles and through Ford Commercial Services are really going to make this happen."
Buzzell also announced that orders can now be placed for the 2021 F-600 Super Duty chassis cab which entered production last month; F-650 and F-750 are getting optional air brakes; and the new 7.3-liter V8 can be paired with a gaseous prep package.