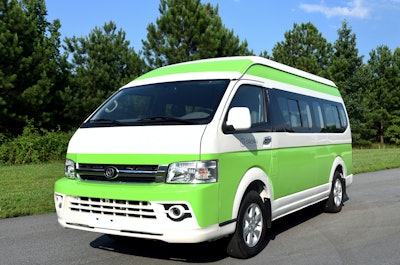 A new electric vehicle company that's drawing on years of EV and auto industry experience is gearing up to offer several EVs in 2018, including passenger and cargo vans.
Green4U Technologies in Braselton, Ga. plans to offer a variety of all-electric models this summer including compact neighborhood vehicles, passenger SUVs, utility SUVs, busses, passenger and cargo vans (passenger variant shown above and below).
According to Green4U CEO and co-founder Jack Perkowski, the van measures 18 feet long, six feet wide and about 7 ½ feet high. Load capacity is around 2,200 lbs., while gross vehicle weight is just under 8,000 lbs.
Entry level driving range is expected to be roughly 135 miles. A DC fast-charger will deliver a recharge time of roughly one hour and 20 minutes.
The steel body for the van will be imported, while the aluminum chassis and powertrain will be provided by Green4U. The van will be available in two- or all-wheel drive.
"What we're doing with our EVs is that we're focusing our engineering and what we can do to make the vehicles different," said Perkowski, who also founded and led ASIMCO, a leading automotive components manufacturer in China.
"What we're doing is importing major components, essentially everything above the chassis and bringing it here and putting it on an aluminum chassis and our own drivetrain," Perkowski continued. "We're importing major components but the things that make the vehicle different and better performing we're doing here using our own technology."
That technology draws on 30 years of experience through Panoz Motor Sports Group, DeltaWing Manufacturing and Elan Motorsports Technologies. Panoz Motor Sports and DeltaWing were acquired by Green4U while Elan Motorsports remains a separate company.
"Our three decades of high-level motorsports design, engineering, fabrication and manufacturing experience helps us to fast-track vehicle development," said Don Panoz, Green4U's chairman and co-founder.
"Weight greatly affects EV range, but we are experts at making things light and strong," Panoz continued. "Great examples are the aluminum chassis designs and body panels we've used on Panoz sports cars for the past 20 years, and the lightweight composite and metal structures created not only for racing but also for our non-racing aerospace, aviation and industrial customers."
Panoz' appreciation for electrified powertrains runs deep. In 1997, he debuted the world's first successful hybrid race car, the Panoz Esperante Q9 GTR-1 Hybrid, which won its class at the 1998 Petit Le Mans race.
Panoz' success in business can be traced back to the pharmaceutical industry in the 1960s. Besides founding Milan Pharmaceuticals (later named Mylan) he also established Elan Corporation which still holds the worldwide patent for the nicotine patch.