Ford has released more images of SEMA pickups along with two vans that will be on display at the SEMA Show next week in Las Vegas. We've posted all eight models, which includes a 70s tribute van aptly titled the Shagadelic Ford Transit.
First up is the F-150 Raptor concept. Designed by Greg Foutz and the Foutz Motorsports team, this off-road beast gets a boost from the team's extensive Baja race experience. The Raptor's already aggressive suspension gets an additional three inches on each side. Massive 40-inch tires wrap factory Raptor wheels. Bypass shocks help take on tough terrain, while 6-piston brake calipers provide impressive stopping power.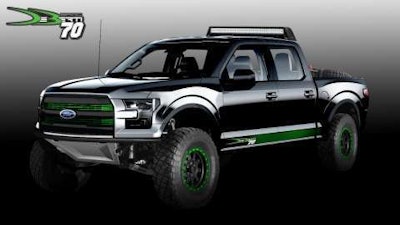 Base vehicle
2017 Ford F-150 Raptor SuperCrew
High-output 3.5-liter EcoBoost® V6
10-speed automatic with paddle-shift capability
Powertrain
K&N cold air kit
Gibson cat-back exhaust
Chassis
Foutz Motorsports suspension
Fox shocks
Optima battery
Mark Williams Enterprises 9-inch rear end third member
Alcon brakes
US Gear 529 front differential and rear end gears
QA1 suspension rod ends
Aeromotive fuel filters, lines and fittings
Wheels and tires
Innov8 Racing 17- by 9-inch forged wheels
BFGoodrich Baja T/A 39×13.5R17 project tires
Exterior
DeBerti Design custom front and rear fenders
3M vinyl wrap
Linson signs
KC LED lights
FiberwerX fiberglass parts
Interior
Foutz Motorsports roll cage
PRP Seats five-point harnesses
MotoWear International -point harness custom embroidery
Ambrose Custom leather headliner installation
Kicker audio upgrades
Cool It sound deadener
Exotic Sound & Tint audio system
KC LED lights
Mob Armor ruggedized mobile technology
Rugged Radios communications
Lifted and Leveled Super Duty
This 2017 F-Series Super Duty concept features a sleek stance thanks to a Ready LIFT 3.5-inch leveling kit with twin I-beam drops providing a lifted but level platform with clearance for 22-inch Fuel Off-Road wheels and tires. The truck is dressed up with Air Design USA's new line of accessories including fender flares and roof pods with integrated LED lights.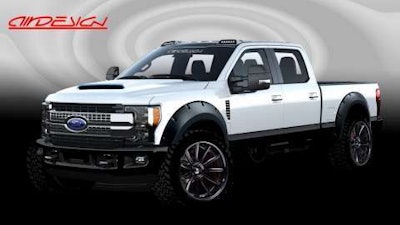 Base vehicle
2017 Ford F-250 Super Duty 4×2 Lariat Crew Cab
6.2-liter V8
TorqShift-G 6-speed automatic with SelectShift®
Powertrain
Gibson Performance Exhaust polished stainless steel dual exhaust with black ceramic-coated tips
Chassis
ReadyLIFT Suspension 3.5-inch leveling kit with twin I-beam drops
Bilstein shocks
Wheels and tires
Fuel Off-Road 22-inch wheels in gloss-black with milled edges
Gripper M/T 35/12.50R22 tires
Exterior
Air Design USA front bumper guard with integrated OSRAM DRL lights, hood scoop, fender flares, roof pods with integrated LED lights, door moldings, floor liners, tailgate spoiler, rear appliqué
BASF white and black paint
Pace Edwards bedlocker electric tonneau cover
Interior
Custom black and white leather seats
Kicker subwoofer
Sundial Window Tinting window tint
Shockzilla…is there anything more to say?
Fabtech's off-road beast Shockzilla uses Ford's most advanced Super Duty ever as the platform for a cutting-edge suspension design that performs both on- and off-road. The 6.7-liter Power Stroke diesel gives muscle to towering exhaust stacks, while massive 4-inch-diameter shocks at the corners soak up the roughest terrain. Long-travel airbags provide support for towing, while a luxurious cabin offers plenty of comfort.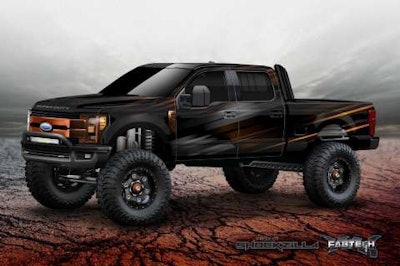 Base vehicle
2017 Ford F-250 Super Duty 4×4 Lariat Crew Cab
6.7-liter Power Stroke turbo diesel V8
TorqShift six-speed automatic with SelectShift®
Powertrain
aFe Power intake system
Fabtech custom catback exhaust stacks
Chassis
Fabtech 8-inch suspension system, Dirt Logic coilover and bypass shocks
Deaver Spring long-travel leaf springs
Wheels and tires
Wheel Pros Moto Metal 20- by 10-inch wheels
Nitto 38- by 15.5- by 20-inch tires
Exterior
Fabtech fender wells, bumper guard
Rigid Industries LED lighting auxiliary lighting
Bushwacker fender flares
AMP Research retractable steps
Haynie Designs custom paint
Rhino Linings bedliner
Interior
Alea Leather custom seating
Super Duty Wide-Body Warrior
This wide-body design Super Duty boasts custom-fabricated fenders for an additional 2.5 inches in front and 4.5 inches at the rear. Custom suspension work from Atlas Spring holds lightweight Forgiato wheels and Lexani Diablo tires. Completing the look is a striking two-tone PPG paint scheme with matching interior featuring full Katzkin custom leather, painted trim pieces and Kenwood audio enhancements.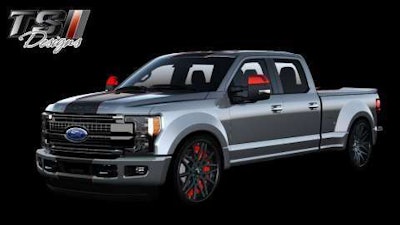 Base vehicle
2017 Ford F-250 Super Duty 4×2 XLT Crew Cab
6.2-liter V8
TorqShift-G six-speed automatic with SelectShift®
Powertrain
Whipple supercharger
CGS Motorsports custom exhaust
K&N air filter
Chassis
Atlas Spring custom lowering kit fabrication and installation
Wheels and tires
Forgiato 26- by 10-inch front, 26- by 13-inch rear wheels
Lexani Diablo tires
Exterior
TS Designs custom wide-body 2.5-inch front, 4.5-inch rear flares
PPG custom two-tone paint by HP Motorsports
A.R.E. Accessories tonneau cover
Interior
Katzkin custom full-leather interior
Kenwood audio system
Custom-painted interior trim pieces
MAD Luxury with a Tow-Truck Attitude
This luxury F-350 Super Duty has big attitude with a tow-truck backbone. Gibson Performance Exhaust enhancements add an extra shot of power and an intimidating engine rumble. The truck's aluminum body is dressed in a BASF black paint scheme with black chrome and Candy Red accents, fitted with 28-inch one-piece Fuel forged wheels and Gripper AT tires. Interior accents mirror the exterior, with gloss-black and red-painted surfaces including dash, center console and door panel inserts.
Base vehicle
2017 Ford F-350 Super Duty 4×4 Lariat Crew Cab
6.7-liter Power Stroke® turbo diesel V8
TorqShift six-speed automatic with SelectShift®
Powertrain
Gibson Performance Exhaust dual extreme rear Super Duty 4-inch stainless steel performance exhaust, DPF complete bolt-on system with 6-inch black ceramic-coated intercooled tips
AMSOIL Dominator motor oils
Odyssey extreme battery
Chassis
Crown Suspension components with Deaver Springs U-bolts and blocks
Wheel and tires
Fuel Off-Road FF19 one-piece 6061-T6 forged dually, deep-concave direct-bolt eight-lug customs finished with gloss-black and Candy Red details manufactured by MHT, luxury alloy 28- by 8.25-inch wheels
Fuel Off-Road Gripper AT front and rear dually 305/30R28 tires
Exterior
BASF R-M Onyx waterborne system custom black base with candy red graphic
LGE-CTS Motorsports custom paint application
Ceramics Pro 9H nano-ceramic protective paint coating
Nano-Fusion paint protection film provided and installed by INVISISHIELD
LightWurkz custom headlights featuring full matte-black conversion, tinted amber and daytime running lamp reflectors, wireless remote custom red LED system, upgraded, rewired parking lights with LEDs
Pace Edwards bedlocker electronic tonneau cover
Line-X Platinum truck bed protection
AMP Research power step running boards featuring LED entrance and exit lighting
AL Priority Quint parking system
Diode Dynamics LED lighting, switchback turn signals and HP5 cool-white LEDs
Rigid Industries LED exterior lighting SR-Q, Q2 Hypersport
MGP caliper covers in gloss black with satin MAD logo
Ford Accessories fifth-wheel hitch kit, 18K fifth-wheel trailer hitch, one-and-seven-eighths-inch ball, 1-inch shank for gooseneck
Interior
MAD Industries custom perforated seat covers in black premium leather with black suede perforated centers featuring gray and red contrast stitching, custom leather-wrapped steering wheel with gray and red stitching
Custom-painted plastics in Jet Black and Candy Red accents
3M crystalline automotive window films for glass, including windshield and panoramic sunroof
SRP Racing clear-anodized block-style racing pedals in Satin Black
Lloyds Custom floor mats
Focal FLAX audio system designed by Source AV Design Group
Rosen AV7950H 7-inch headrest tablet monitors with digital media player, DVD
EnforTrace GPS tracking system
Super Duty Primed for Active Duty
This fully functioning police and tactical unit may look like a life-size toy, but it's designed for the law enforcement officer lifestyle. Equipped with a camper shell featuring large pull-out Bedslide and TruckVault, this custom Ford F-350 offers the perfect place to store tactical gear. The MBX350 Matchbox police-ready vehicle can take on plenty of terrain, making it the ideal law enforcement partner.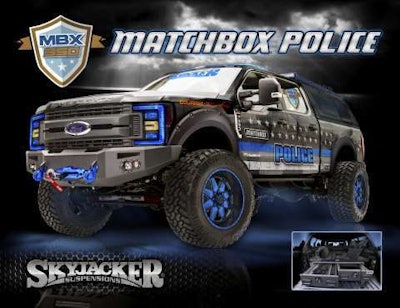 Base vehicle
2017 Ford F-350 Super Duty 4×4 XL Crew Cab
6.7-liter Power Stroke® turbo diesel V8
TorqShift six-speed automatic with SelectShift®
Powertrain
MagnaFlow performance exhaust
Chassis
Skyjacker Suspensions 8.5-inch four-link lift kit, LeDuc series coilover front shocks, M95 rear shocks, silver dual-steering stabilizer
Wheels and tires
American Force Wheels level-faceplate custom powder coat and engraving 20-inch wheels
Nitto 40×15.50R20 tires
Exterior
Fab Fours premium front and rear bumper, 72-inch roof rack
Whelen Engineering legacy 54-inch super LED lightbar, legacy lights in blue with siren, police scanner and radio
Rigid Industries 30-inch and 50-inch radiance blue back-lit lights and rock lights in blue
A.R.E. Accessories Z-series top
Warn Zeon 12S winch and premium hook
HIDprojectors custom LED blue headlights
Bedslide 1000 truck bed slide and guard rails
Bushwacker pocket-style fender flares
Ford Accessories 5-inch black side steps
Interior
Katzkin two-tone Tuscany insert leather seats with blue stitching and embroidery
Lund Industries police console with armrest, sidecar and swivel-arm laptop mount
sPOD eight-circuit touch screen power distribution and switch controls
Magellan eXplorist TRX7 off-road GPS navigation
Kicker audio vehicle-specific solutions system
5.11 tactical breaching tools and tactical equipment
TruckVault secure in-vehicle storage solutions
Ford Accessories all-weather floor mats
Ford Transit Means Music on the Move
Rock 'n' roll has a new home with this Ford Transit 350 wagon outfitted as a mobile music maker. Up-and-coming band Good Boy Daisy is leveraging the vehicle's space and capability. With a mission to foster young musical talent and give them an innovative stage with the most current equipment in the industry, the musicians on the Good Boy Daisy Transit mobile stage aim to be the center of attention.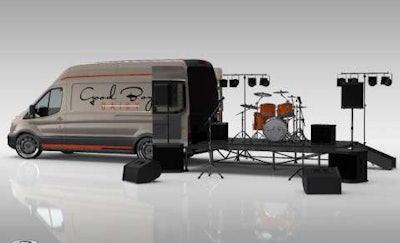 Base vehicle
2016 Ford Transit 350 dual-rear-wheel van
3.2-liter turbo diesel I5
Six-speed SelectShift® automatic
Powertrain
Full-Race Motorsports catback side-exit exhaust, cold air intake
Chassis
Air Lift load lifter 5000 air springs, WirelessAIR compressor system
Wheels and tires
Alcoa polished aluminum 16- by 6-inch 350DRW wheels
Hankook DynoPro HT 195/75/16 tires
Exterior
Slick Shot custom paint and body
Automotive Art Paints custom Champagne and Candy Tangerine
Ford Accessories front and rear molded splash guards, roof rack
Interior
Kicker 6.5-inch speakers and subwoofer
Edgefinder custom 13- by 16-foot deployable stage
QSC KW181-powered subwoofers, KW153-powered loud speakers, K10-powered loud speakers
GoPower! industrial pure sine 3,000-watt power inverters
QSC Audio Products: KW181 powered subwoofers, KW153 powered loud speakers, K10 powered loud speakers
Ford Accessory floor mats
Shagadelic Ford Transit
This custom 2016 Ford Transit van with twin-turbo EcoBoost engine features today's technology with the look of a retro 1976 Ford Econoline custom concept. Riding on 18-inch wheels, it has an early-1970s paint scheme, bubble side windows, custom grille and side pipe exhaust, plus an interior that just screams "shagadelic," complete with leather seating and shag carpet.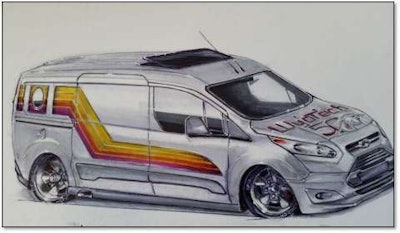 Base vehicle
2016 Ford Transit 150 van
3.5-liter EcoBoost
Six-speed automatic
Powertrain
SCT XR 4 Performance programmer
Gibson Performance Exhaust with custom-fabricated side pipes
Wheels and tires
Rocket Racing Booster series 18-inch wheels
Michelin Redline 235/55/17 front, 275/45/18 rear tires
Exterior
PPG custom gold leaf paint with WyoTech 50th logo
Roush Performance front fascia splitter, fog lights
WyoTech custom-formed bubble window, custom-built rear window louvers, custom grille
Interior
Katzkin leather seating
Webasto front and rear powered sunroofs
HushMat soundproofing
Kenwood audio system
Rockford Fosgate speakers, subwoofers and amps
Samsung 20-inch flip-down center monitors
Brandmotion charging system
WyoTech custom interior and appointments
XK-GLOW lighting