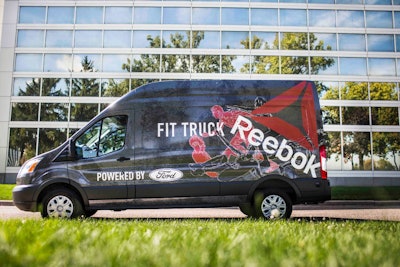 What do you get when you combine a Ford Transit, some of the world's most influential fitness pros and a strong commitment to fitness?
FitTruck, powered by Ford and Reebok, will travel over 2,000 miles this fall making several fitness stops along the way.
This mobile gym will be appearing throughout the eastern U.S. using Reebok's world-class instructor network to take fitness to the next level with the help of the customizable Ford Transit (more photos below).
"FitTruck embodies the idea that the gym is everywhere and fitness can truly take place anywhere – a city, a park or your own home," says Steve Robaire, Reebok director of instructor engagement and global events. "Today, everything can be made mobile, from food trucks, to retailing clothing and accessories, to basic health care and beyond. It just made sense to take this concept and use it to promote something healthy."
The crew
FitTruck is bringing some of the world's most renowned names in fitness to pop-up events, fitness boot camps and wellness clinics. Reebok's wide instructor network, Reebok ONE, includes more than 106,000 fitness trainers from around the world.
Special guests from Reebok ONE's network on the FitTruck tour include:
Emily Skye: Australian fitness star and founder of the hugely popular F.I.T fitness workout
Jamie Eason: International cover model and co-creator of Lean Body for Her natural supplementation
Ashley Horner: Official female spokesperson for Bodybuilding.com
Cory Gregory: Creator of the Squat Every Day program
"Silent Mike" Farr: Co-host of the popular fitness podcast Powercast and a world-renowned powerlifting expert
Athletes will share on-tour experiences via social media. Follow the tour's progress using the hashtag #FitTruck.
Tour dates
FitTruck's multi-state tour will take it through a number of stops:
Oct. 20-21, Boston: Reebok headquarters will get the tour started right with a celebration. From there, FitTruck will be making stops along the way to its next stop in Virginia Beach for pop-up activations at Reebok FitHubs in cities including New York and Washington, D.C.
Oct 24-30, New York, Washington, D.C.: FitTruck will host popup activations at Reebok FitHubs
Oct. 30 – Nov. 6: Virginia Beach, Virginia: FitTruck's next stop takes it to the East Coast, where it will be hitting local gyms. Ashley Horner will host a Facebook Live training session, and FitTruck will be right there as she runs a 50-mile ultramarathon through the mountains. Plus, the winner of the Win a Day to Meet and Train with Ashley Horner contest will receive a one-day training with the fitness pro herself
Nov. 8, Raleigh, North Carolina: Touring North Carolina's capital city, FitTruck will feature a workout with adaptive fitness athlete and professional Logan Aldridge and other local grassroots events
Nov. 12, Charlotte, North Carolina: Next, a trip through the Queen City as FitTruck parks outside a local gym, encouraging people to stop and join fitness competitions and apparel giveaways throughout the day. Don't miss out on the chance to win prizes for doing burpees
Nov. 26 – Dec. 2, Columbus, Ohio: It's game day for FitTruck, which will be tailgating outside the Ohio State University-University of Michigan football game, hosting fitness competitions and giving away prizes to students. Plus, Cory Gregory will host a Squatlife seminar. And check out the big appearance from "Silent Mike" Farr, who will shoot a YouTube video onsite.
A closer look at FitTruck
Just as Reebok encourages people to enhance their lives through the physical, mental and social benefits that fitness provides, Ford continues to work on developing versatile trucks and vans for fleets and tradespeople that take on demanding jobs.
Ford Transit features a unibody construction and gives customers flexibility with 64 available configurations for 2017, the most in its class. Built on a Transit 250, FitTruck has a high roof and 148-inch wheelbase, and is powered by a 3.2-liter Power Stroke I5 Turbo Diesel with a six-speed SelectShift automatic transmission.
Two of Ford's qualified vehicle modifiers, TransitWorks and Adrian Steel, worked together to transform this Transit cargo van – with 404 cubic feet of cargo space – into a fitness machine.
TransitWorks fitted the front of the van with four removable seats to comfortably transport the fitness instructors on tour, as well as a custom floor, lighting, headliner and partition.
Adrian Steel custom-designed and built storage for a variety of fitness equipment, including dumbbells, barbells, weight plates, battle ropes, resistance bands, yoga mats, medicine balls and kettle balls.
It's another example of how Ford's upfitter network can equip the Ford Transit for any job – even if that job is a grueling 2,000-mile fitness road trip.
"When duty calls, business professionals and commercial fleets want a vehicle with the rugged reliability to get the job done and a feature selection customized to their specific needs," said Julie Ellenberger, Ford marketing manager for Transit. "Transit has a track record of taking on the toughest situations drivers can throw at it, whether navigating a construction site or an urban landscape. Likewise, embracing a healthy, fit lifestyle allows people to handle the toughest life can throw at them, both mentally and physically."
FitTruck builds on Ford Transit's tough, customizable platform with an eye-catching exterior and four rear seats for the influential fitness instructors who will be joining the tour along the way, as well as a gym's worth of fitness equipment and more
FitTruck builds on Ford Transit's tough, customizable platform with an eye-catching exterior and four rear seats for the influential fitness instructors who will be joining the tour along the way, as well as a gym's worth of fitness equipment and more
FitTruck builds on Ford Transit's tough, customizable platform with an eye-catching exterior and four rear seats for the influential fitness instructors who will be joining the tour along the way, as well as a gym's worth of fitness equipment and more
FitTruck builds on Ford Transit's tough, customizable platform with an eye-catching exterior and four rear seats for the influential fitness instructors who will be joining the tour along the way, as well as a gym's worth of fitness equipment and more
FitTruck builds on Ford Transit's tough, customizable platform with an eye-catching exterior and four rear seats for the influential fitness instructors who will be joining the tour along the way, as well as a gym's worth of fitness equipment and more