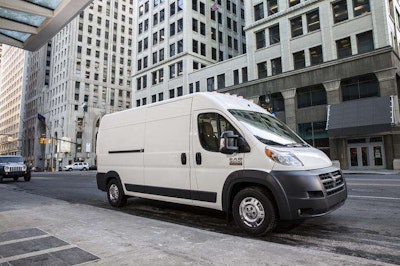 The United States Postal Service (USPS) has ordered just more than 9,000 unibody, front-wheel-drive Ram ProMaster 2500 cargo vansto add to its fleet.
The 9,113 2016 Ram ProMaster 2500 cargo vans feature a gasoline-fueled 3.6-liter Pentastar V-6 engine rated at 280-horsepower output with peak torque of 260 lb.-ft. The engine is paired with a six-speed automatic transmission, upgraded to accommodate the ProMaster's cargo-hauling capability.
The Postal Service operates one of the largest vehicle fleets in the nation, using an estimated 190,000 vehicles to collect and deliver mail, including about 142,000 long-life vehicles (LLVs). The Ram ProMaster order is independent of USPS' acquisition program to supply the next generation of its delivery vehicles.
"While each and every one of our fleet customers is important to us, none command our attention like USPS," said Tim Kuniskis, Vice President – Fleet Operations, FCA – North America. "I can't think of another more mission-critical service than literally delivering the goods of our nation on a daily basis, and we are honored that USPS chose the Ram ProMaster to help them meet their challenging duty."