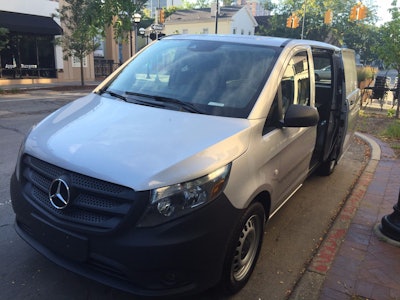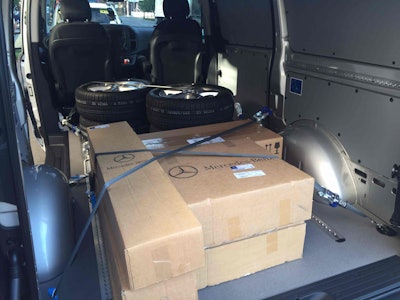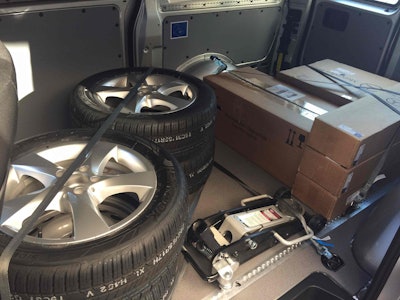 Mercedes Benz' segment-exclusive midsize Metris has barely arrived on dealer lots in the U.S., but it's already sold out through early next year.
Metris product manager Jan ten Haaf says what sets Metris most apart from the field is the ease in which Metris goes where most commercial vans rarely dared go before – namely low-clearance parking garages and crowded metropolitan roads. The fact that it rides and drives more like the German automaker's more luxurious sedans, I guess, is simply an added bonus.
This week, I was able to pilot the Metris on a roughly 100 mile trek through and around Ann Arbor, Mich., and over a generous mix of urban and rural roads.
The German engineering behind Metris is plainly obvious when you first approach the vehicle. This year, more Euro-style vans will be sold in the U.S. than traditional-style, and Metris' exterior European style influences are far from subtle.
Inside, Metris is full of interior comforts borrowed from Benz's C-Class; most notably LED lighting, the instrument cluster, steering wheel and a blinker-style gear shift. Also worth noting are the van's independent climate control for both passenger and driver and dash mounted navigation screen.
The thick steering wheel rests low on the driver and hides two paddle shifters, which allows the driver to gear the seven speed automatic transmission up or down manually while the vehicle is in drive – another nod to the C-Class. This is an almost hands-free feature for drivers with a trailer in tow (the van features a tow rating of 5,000 pounds).
The lack of a center console allows for ample space between the font seats. There is more than enough storage space built into the dash for paperwork, drinks, charging electronics or third-party navigation tools.
Driver comfort is on an entirely different level in the Metris. Cabin noise was surprisingly low and the brake pedal rests seemingly millimeters from the accelerator, allowing the driver to easily swap between the two by simply pivoting on their heel.
I thought the brake was a little aggressive. It doesn't take much foot pressure to get a response, but it only takes a couple of stop signs to figure it out.
Working hard in style
Don't let the technology and styling fool you. Metris is a work van.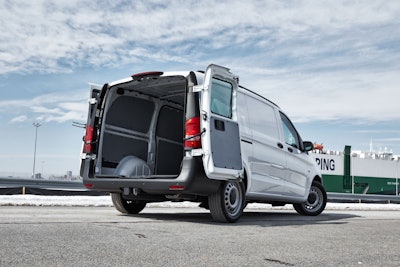 At 186 cubic feet of cargo space, the van is every bit as blue-collar as its Detroit-engineered peers. Metris was designed with urban fleets in mind, and it shows. More than 12 inches longer than Ford's Transit Connect, Metris offers 880 more pounds of payload and 45 percent more cargo volume. Metris is nearly 22 inches smaller than a Chevy Express 1500, but offers more than 120 more pounds of payload and 660 more pounds of towing capacity.
The push-button sliding cargo doors on either side could not be easier to operate while offering curbside and streetside access. And the 270-degree opening rear doors offer maximum clearance for loading pallets or other large objects.
The extra space doesn't come at the expense of navigability. The rear-wheel drive Metris' turning radius is, simply put, amazing. Mercedes says the van can make a 180 degree turn in 30 feet. I actually found it to be somewhat less than that. I managed to pull an about face in roughly 27 feet. You can make a (legal, of course) U-turn on many downtown streets without damaging parked cars, or trying to execute a tight three-point turn while angry motorist blare their horns in either direction.
Standard performance and safety
The company opted not to use the 4 cylinder diesel engine familiar to Sprinter drivers in favor of a 2 liter, 4-cylinder gasoline engine specifically tuned for Metris. The turbocharged I-4 puts out a respectable 208 hp and 258 lb-ft of torque, all the while getting you around 23 MPG.
Up to six airbags come standard on Metris, as does Attention Assist, Crosswind Assist and load adaptive ESP. Load adaptive ESP is a big coup for urban delivery fleets, as the system will adjust itself as the load continues to lighten delivery-after-delivery. It's also part of the reason I found the ride from the fully independent suspension tight throughout the ride.
The van corners and rides comfortably for a commercial van.
Options galore
An optional automatic start-stop feature shuts the engine off once the vehicle comes to a full stop and automatically restarts once the driver releases the brake. This process is seamless and hardly noticeable unless you're watching the tachometer.
Parking Assist is another option, but if your fleet navigates tight surface roads that call for frequent parallel parking, you want this $740 option. With a simple push of a button and flip of the blinker, Metris will handle all of the steering wheel work needed to parallel park. All the driver has to do is control the gas and brake pedal. Metris will adjust its own steering based on the van's speed.
The steering wheel houses optional Lane Keeping Assist, which provides a subtle hand vibration when the vehicle crosses a lane marker on either side.
A rear camera, Collision Prevention Assist and Blind Spot Assist are also available options.
Order intake to-date has seen an even split between cargo and passenger van configurations. Service and maintenance fleets have logged 25 percent of cargo configuration orders. Another 18 percent came from from goods delivery and 7 percent from special purpose.
With a starting price of $28,950 for the cargo model, Metris will be the lowest priced Mercedes in the U.S., but is still premium priced in the smaller commercial van segment. However, Metris delivers premium performance with enough additional capability to make a higher sticker price feel more like an investment.