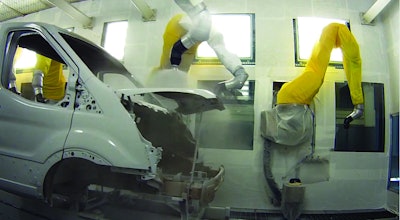 The all-new Ford Transit is all-new from head to toe…or skin.
The van will make its North American debut later this year with more durable paint, thanks to an industry-first paint technology now in use at Kansas City Assembly Plant.
The Transit vehicles built in Kansas City are the first to use a new two-wet monocoat paint process developed by Ford and its paint suppliers, a process Ford says results in a more durable paint, uses less energy and water, and reduces carbon dioxide and particulate emissions compared with conventional paint processes.
The new paint exceed "Built Ford Tough" standards, and was subjected to a battery of tests that simulates typical conditions the vehicle will see during 10 years. The paint was tested for its resistance to chipping and scratching, pollutants and sun exposure. Ford says, advanced weathering testing indicates that paint applied with the new two-wet technology will retain 90 percent of its gloss at four years in service compared to 1 percent gloss retention for paint applied using a conventional monocoat process.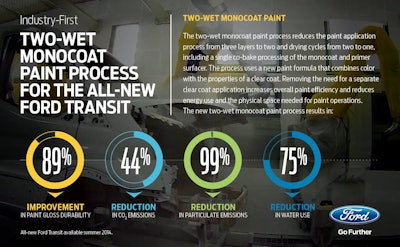 "Durability was a critical consideration when we initiated this project," Dennis Havlin, Ford global paint engineering development and launch supervisor, says. "The advancements in paint chemistry enable us to deliver the appearance, performance and durability our customers demand."
In addition to making paint tougher, the process reduces painting time and energy use by cutting the number of paint applications from three to two and the number of drying procedures from two to one, Ford adds.