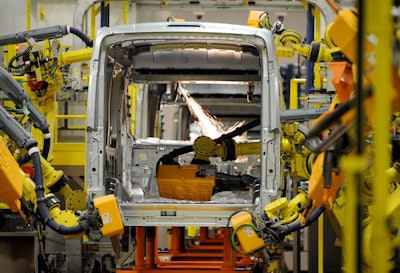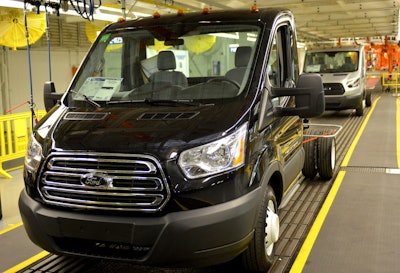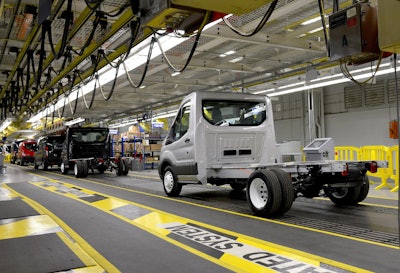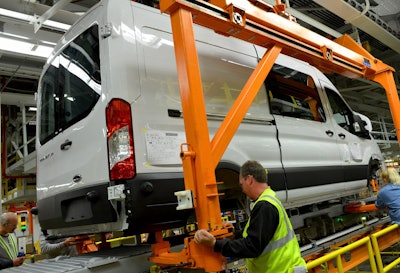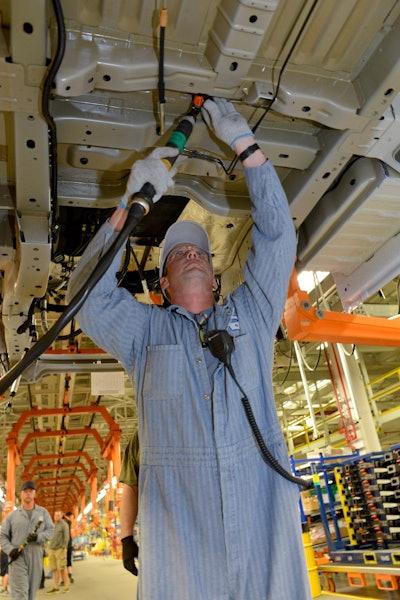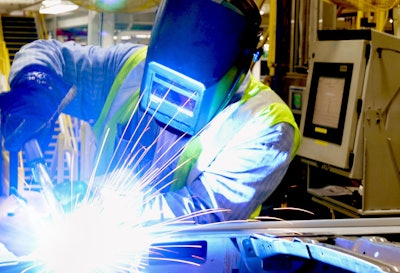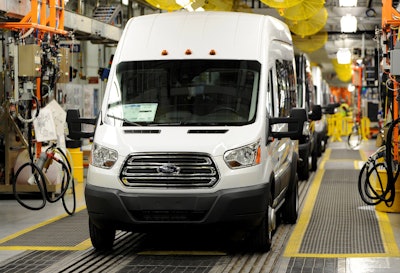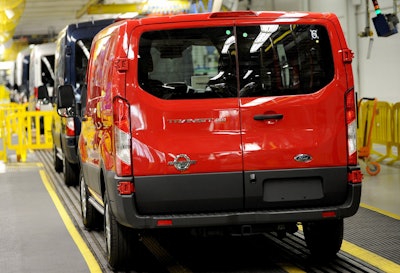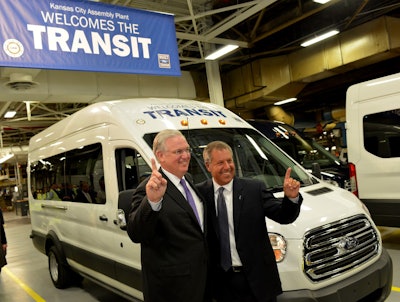 Flanked by 2,000 new employees and supported by a $1.1 billion investment, the all-new Ford Transit van rolled off the line at Kansas City Assembly Plant Wednesday, as Ford aims to strengthen its leadership in the commercial vehicle segment.
"Producing our Built Ford Tough Transit lineup in Kansas City is a big deal for the local community," says Joe Hinrichs, Ford president of The Americas. "Our investment in Kansas City Assembly Plant for Transit production is about delivering world-class commercial vans for a new generation of commercial customers – while building on our decades of leadership in the market and supporting new jobs throughout the region and across America."
The 2,000 new Ford employees at Kansas City Assembly Plant puts the company more than 75 percent toward its goal of creating 12,000 hourly jobs in the U.S. by 2015. In 2014 alone, Ford will hire nearly 5,000 new hourly and salaried employees in the U.S. to support overall growth.
The addition of Transit has had a significant impact in the Kansas City-area community. Kansas City Assembly Plant works with more than 100 suppliers nationally and eight suppliers locally that have grown their businesses because of the new Transit.
"Today represents much more than a next-generation vehicle rolling off an American assembly line for the first time, it represents another huge milestone for Missouri as we continue to lead the rebirth of the American auto industry," Gov. Jay Nixon says. "With the all-new Transit, Ford's historic investment in Missouri has brought another outstanding vehicle to consumers and thousands of good manufacturing jobs to our state. Today, the 'Made in Missouri' brand is back and stronger than ever."
Ford Transit transformation
Transit, which goes on sale this summer, eventually will replace America's best-selling van for 35 years, the E-Series van, first sold in 1961 as Ford Econoline.
E-Series vans and wagons still will be available and sold side-by-side with Transit into the 2014 calendar year, providing a seamless transition for Ford customers. Additionally, the E-Series cutaway and stripped chassis will continue to be built and sold through most of the rest of the decade.
Transit was introduced in Europe in 1965 and has been the best-selling commercial van in the UK for 49 years. Transit is currently sold in 118 markets on six continents.
The new Transit van offers as much as 487 cubic feet of cargo volume and 4,650 pounds of maximum payload capacity and delivers a maximum towing capacity of 7,600 pounds.
In some configurations, Transit offers as much as 75 percent more cargo volume than the largest E-Series, helping customers save in fuel costs and time associated with having to make a second trip. Maximum payload increases more than 600 pounds across the Transit van lineup versus comparable E-Series vans.
Transit will be available in three body lengths, two wheelbases on van and wagon and three roof heights; in van, wagon, chassis cab and cutaway body styles; and in XL and XLT trim levels, offering more choices than ever from a Ford commercial van vehicle.
Moving from an all-gasoline engine lineup of two V8s and a V10 in E-Series, Transit comes standard with a 3.7-liter V6 engine and offers the Ford F-150's 3.5-liter EcoBoost engine, along with a globally proven available 3.2-liter Power Stroke diesel option. Each engine is paired with a six-speed automatic transmission for efficient rear-wheel-drive operation.
Kansas City Assembly Plant investment
In addition to Transit, Kansas City Assembly Plant produces Regular, Super and Crew Cab versions of Ford F-150. The plant employs 4,878 hourly workers on three crews. The third crew was added in the third quarter of 2013.
"The good news keeps rolling in for the dedicated, hard-working men and women of UAW Local 249," says Jimmy Settles, UAW vice president, National Ford Department. "The addition of Transit to the Kansas City Assembly Plant line is a testament to the great work our members here and across the nation are doing every day, and helps solidify the future of Kansas City Assembly."
Ford has invested $1.1 billion to retool and expand the facility for Transit production and support surging customer demand for F-150. Expansion projects include the addition of a 437,000-square-foot stamping facility and a 78,000-square-foot paint shop that will employ the three-wet and two-wet monocoat paint processes. Both processes are more environmentally friendly and take less time than conventional paint processes.
"These upgrades have helped make the Kansas City plant the global standard for Ford's new manufacturing facilities across the world," says Bruce Hettle, Ford vice president, North America manufacturing. "To support Ford's global growth, in 2014 we will open three new manufacturing facilities – two of them in Asia Pacific and one in South America."
The investment has also contributed to close to 550 new robots in the body shop, more than 700 new assembly tools in trim and chassis, and 18 new conveyor systems totaling 5,565 feet.
The new investment also will support Kansas City Assembly's production of the all-new Ford F-150 in 2015, after the truck launches at the Ford Dearborn Truck Plant in late 2014.