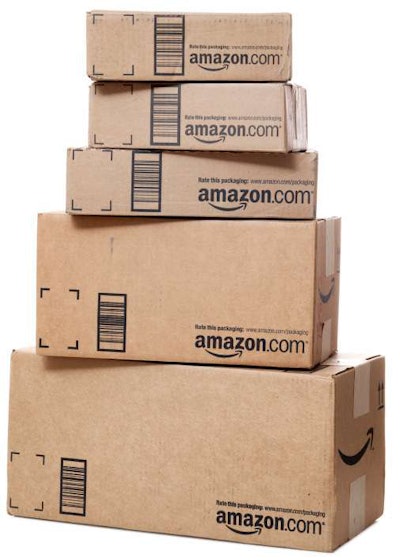 Stung by holiday delivery delays, to say nothing of the ever-increasing shipping expenses paid to third-party parcel companies, Amazon.com is developing its own last-mile service in the U.S.
Based from a parking lot at Candlestick Park in San Francisco, the e-commerce giant is now using contract drivers to deliver packages in the Bay Area, the Wall Street Journal reports. Similar operations are underway in Los Angeles and New York.
"The new delivery efforts will get Amazon closer to a holy grail of e-commerce: Delivering goods the same day they are purchased, offering shoppers one less reason to go to physical stores," write authors Greg Bensinger and Laura Stevens. "With its own trucks, Amazon could offer deliveries late at night, or at more specific times."
In its first-quarter earnings statement Thursday, Amazon reported that shipping costs rose 31 percent. Likewise, fulfillment costs as a percentage of sales continue to climb.
Also on Thursday, shipping partner and potential rival UPS reported its profits for the quarter fell 12 percent due to bad weather in the U.S. and the associated increases in overtime and transport costs.
More significantly, UPS is also investing in technology and increased capacity to handle the Christmas surge of online shopping. While delayed deliveries were only a small fraction of packages shipped during the holidays, UPS, FedEx and ultimately Amazon were blamed by frustrated customers in widely reported news stories.
And Amazon doesn't want to be accused of over-promising again. The long-term possibility: Amazon, or a unit, evolves into a logistics company of its own.
But UPS has a head start of more than 100 years, as the WSJ article points out. And Amazon will be challenged to meet the needs of its customers with the same level of efficiency as the established leaders in the field.
A hint of things to come could be found in a recent job posting the Amazon website:
"Amazon is growing at a faster speed than UPS and FedEx, who are responsible for shipping the majority of our packages. At this rate Amazon cannot continue to rely solely on the solutions provided through traditional logistics providers. To do so will limit our growth, increase costs and impede innovation in delivery capabilities. Last Mile is the solution to this. It is a program which is going to revolutionize how shipments are delivered to millions of customers."
Similarly, in a recent shareholder letter CEO Jeff Bezos referred to a last-mile delivery network already up and running in the United Kingdom "where commercial carriers couldn't support our peak volumes. … And there is more invention to come."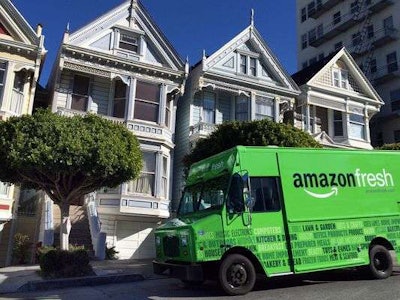 Bezos also refers to Amazon Fresh, the company's grocery delivery platform serving Seattle, San Francisco and L.A – with aims to expand to more cities. As he notes, the program also delivers "over 500,000 other items ranging from toys to electronics to household goods."
The WSJ story adds that Amazon could also immediately reduce its reliance to UPS and Amazon by turning to cheaper, more flexible regional carriers for deliveries, according to supply-chain experts and logistics consultants.
FedEx CEO Fred Smith in December said that Amazon "can unquestionably do local deliveries should they choose to do so." But he said the vast majority of packages would continue to be moved by FedEx, UPS and the Postal Service. A FedEx spokesman declined to comment further. A UPS spokesman also declined to comment for the WSJ report.