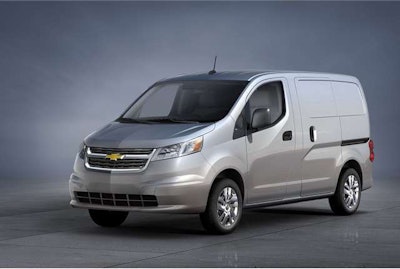 Nissan Motor Co. said this week the company would provide General Motors Co. with a version of its NV200 cargo van for resell in the U.S. and Canada.
Dubbed the Chevrolet City Express, the four-cylinder van is expected to hit GM lots in the third quarter of 2014.
"Our fleet customers have asked us for an entry in the commercial small van segment, so this addition to the Chevrolet portfolio will strengthen our position with fleets and our commercial customers," GM fleet and commercial sales chief Ed Peper says.
Nissan currently sells a similar version – its NV200 – in a number of markets around the world, including the U.S. and Canada with a price point of around $20,000.
The Nissan/GM partnership is expected to compete domestically with the Ford Transit Connect, and become yet another player in a segment that already includes the Transit Connect, Chrysler's new Fiat-based Promaster City and Mercedes Sprinter.
GM says its new front-wheel drive van has a 2-liter, dual overhead cam 16-valve, 4-cylinder engine with seating capacity for two and a maximum payload of 1,500 pounds.