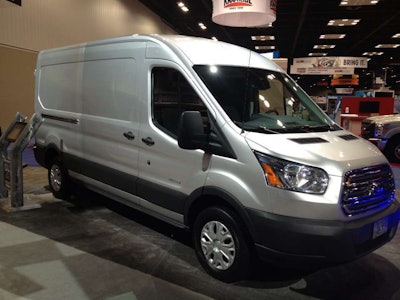 Ford announced Thursday plans to add more than 2,000 jobs at its Kansas City Assembly Plant to meet rising demand for the Ford F-150 and planned production of the new Ford Transit van.
The company says it will add 900 jobs and a third crew in the third quarter of this year to build its F-series pickup line. Sales of Ford F-Series trucks increased 24 percent in the U.S. in April and have climbed 19 percent year to date, the company says.
The Transit eventually replaces Ford's E-Series van, first sold in 1961 as Ford Econoline, in the U.S.
Transit is already the best-selling commercial van in Europe.
The company says its Transit van will be at least 25 percent more fuel-efficient than the E-Series line it replaces.
Ford also says it plans to add another 1,100 assembly jobs in the fourth quarter of this year as the company prepares to introduce its new Transit full-size van next year.
"For customers who want a modern van that is as tough and smart as the F-Series, the all-new Ford Transit van delivers – with better fuel economy, more capability, and the greatest number of technology choices and innovative configurations full-size van buyers have ever seen," Joe Hinrichs, Ford president of The Americas, says.
Of the 2,000-plus new workers heading to the workforce, approximately half will be recalled from earlier layoffs with the other half being new hires.
Hinrichs added that the number of recalled and newly hired employees will surpass the total number of employees laid off as the company restructured itself in 2009.
Ford's Kansas City Assembly Plant produces the Ford F-150 regular, SuperCab and SuperCrew and will produce the Ford Transit. The plant currently has 2,450 hourly employees working on two shifts and will add a third crew in the third quarter. The company has invested $1.1 billion to retool and expand the facility.
Ford says Thursday's announcement of new jobs in Kansas City brings the company to 75 percent of its goal to create 12,000 hourly jobs in the United States by 2015. Ford had agreed to create those jobs at the bargaining table with the United Auto Workers Union in a 2011 contract extension.
Detroit's automakers released data Thursday showing pickup sales by all automakers last month jumped 27 percent.