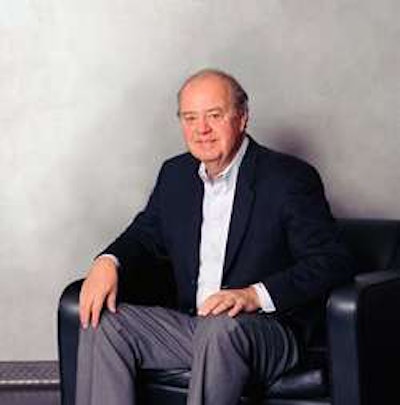 W. "Knap" Knapheide III, President of The Knapheide Manufacturing Company of Quincy, Ill. died at the age of 72 on Tuesday, August 28 at 6:55 pm in his home.
Knap was born August 29, 1945 in Quincy the son of H. W. "Bud" Knapheide, Jr. and Mary MacDill Knapheide. He married Ann Winters on June 15, 1974 in Quincy. She survives.
Knap was a 1963 Quincy High School graduate and received his BS degree in Industrial Administration from Kansas University in 1967. He was Director of the Quincy Area Project, was Past Chairman of the Blessing Hospital Board, a former Director for Mercantile Trust and Savings Bank and served on the boards of the Quincy Society of Fine Arts and the Quincy YMCA and Adams County. He chaired or co-chaired the Salvation Army Campaign of Lights, the Quincy University's GOAL 2000 Capital Campaign, the Adams County United Way Campaign and the Quincy YMCA Traditions for Tomorrow Capital Campaign. He was a recipient of the Mississippi Valley Boy Scouts Distinguished Citizen Award, the Quincy Neighborhood Federation Theta Jansen Award, and was awarded the Honorary Degree of Doctor of Humane Letters from Quincy University.
Knap also served on the Board of Governors of the Ronald Reagan Ranch, Santa Barbara, California, a Trustee for Kansas University Endowment Association, a former Trustee for Monmouth College, Monmouth, IL, a former member of Kansas University Athletic Board, a former Director of Illinois State Chamber of Commerce, and the Illinois Manufacturers' Association.
Knap was a devoted family man who loved spending time with his family, especially watching his grandchildren grow. His family would like him to know that we have been so blessed for what he did for so many, but especially for what he did for all of us. So many lives have been touched by his kindness and quiet generosity. Knap was fiercely loyal and dedicated to his friends. He was committed to his family business Knapheide Manufacturing and would be considered a true patriot. He showed his love of country by prominently and respectfully establishing The Wall of Faith on the business property. Knap loved and supported the Quincy community with his time and his resources. He was an avid sports fan and especially supported the Kansas Jayhawks, the St. Louis Cardinals and the Quincy Blue Devils.
Survivors in addition to his wife, include his son, H. W. "Bo" ( Erin) Knapheide, IV; three grandchildren, Lauren Ragan Knapheide, Elizabeth "Libby" McGee Knapheide and Henry Winters Knapheide; a sister, Viktoria Knapheide Wood of The Woodlands, TX; a nephew, Randall (Gail) Wood and their children, Morgan, Lilly and Cooper Wood; a niece, Amy "Wood" (Shawn) Wills and their children, Abby, Mia Margaret and Fisher Wills, and a niece, Molly Wood.
Knap was preceded in death by his parents, his son, Ragan Winters Knapheide, his granddaughter, Mary Ann Knapheide, and a brother-in-law, Erwin Wood.
Services: 11:00 am Monday, September 3, 2018 at the new Knapheide Manufacturing plant at 2825 Koch's Lane, Quincy with Rev. Chuck Hetzler, Rev. Josh Vahle and Rev. Bruce Rice officiating.
Burial: Woodland Cemetery, Quincy, Illinois
Visitation: 1pm – 6pm Sunday, September 2, 2018 at the First Union Congregational Church, 12th and Maine Street
Memorials: Quincy Area Project (for the Neighborhood Federation), Quincy Public School Foundation, First Union Congregational Church or the Quincy Family YMCA
Hansen-Spear Funeral Directors are in charge of the arrangements.