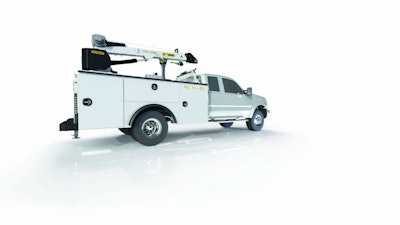 Omaha Standard Palfinger debuted it's newest mechanics body, the PAL Pro 20, at the Work Truck Show in Indianapolis this week.
Accomodating service cranes up to 20,000 ft. lbs. of lifting capacity, the reinforced PAL Pro 20 mechanics body is designed to maximize field performance in both on and off-road applications. All compartment tops and raised compartments are reinforced with internal gussets which prevents cracking and allows for mounting of welders, compressors and tool boxes.
The PAL Pro 20 body features standard two-piece steel doors with internal C-channel stiffeners, automotive adhesive bonding and 316 marine grade stainless steel hinges. The PAL Pro 20 also features a full length channel drip rail to divert water away from the compartment openings and 3-point compression latches for improved security and sealing. To maximize storage and payload, aluminum shelving and roll-out drawers are available with 4 longitudinal dividers and padded doors.
As with all PAL Pro mechanics bodies, the PAL Pro 20 offers the best rust protection in the industry, thanks to the innovative 12 step E-coat corrosion protection from Palfinger.
The PAL Pro 20 is offered in 9-foot and 11-foot standard configurations, with more than 30 bumper and outrigger combinations. For a complete package, PAL Pro 20 is available with Palfinger's PSC 3216, PSC 4016 and PSC 4025 service crane models and Palfinger's PRC 45V rotary screw compressor.