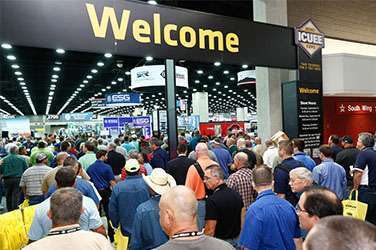 The largest International Construction & Utility Equipment Exposition yet is scheduled for early next month in Louisville, Ky.
Exhibitors include Acela Truck Company, A.R.E., Dakota Bodies, Cummins, General Motors, Nissan, Ranger Design and many more.
Look for Acela's 4×4 and 6×6 Monterra chassis, utility, crane and service trucks at booth N2201.
"From its 46-inch tires up, the Acela Monterra line of trucks offer supreme maneuverability, durability, and customization," said Acela President David Ronsen. "With a payload of up to 31,000 lbs., body-builder friendly configurations, and a price tag starting at $95,000 we feel the Monterra is the perfect all in one job site solution. There is simply no comparison in the North American market today."
Find A.R.E. Accessories at booth 5206. A.R.E. manufactures Fiberglass Cover, Deluxe Commercial Unit Aluminum Truck Cap, and ToolMaster Fiberglass Commercial Cap. The Ohio-based company offers other cargo management solutions, including KargoMaster, Yakima, Prime Design Roof Racks, Truck Vault Cargo Drawers and CargoGlide roll-out bed systems with up to 2,000 lb. capacity.
Dakota Bodies, which has been building utility and service truck bodies in Watertown, S.D., since 1997, will be at booth L127. Find other exhibitors using ICUEE's floor map.
ICUEE, also known as The Demo Expo, will be held Oct. 3-5 at the Kentucky Exposition Center in Louisville, Ky.
This year's event is larger than ever with 28 acres of the latest utility and construction equipment, products and technologies for attendees to explore, from more than 900 exhibitors (20-plus percent new to the show).
ICUEE 2017 will feature specialized exhibit pavilions for fleet management, safety and green utilities, China and Korean exhibit pavilions, and the Lift Safety Zone from the National Commission for the Certification of Crane Operators (NCCCO).
A 2-mile Test Drive Zone highlights on-road equipment and technologies, and the indoor Demo Stage features interactive product demonstrations to complement extensive in-booth product demos.
For more information about ICUEE, visit icuee.com.