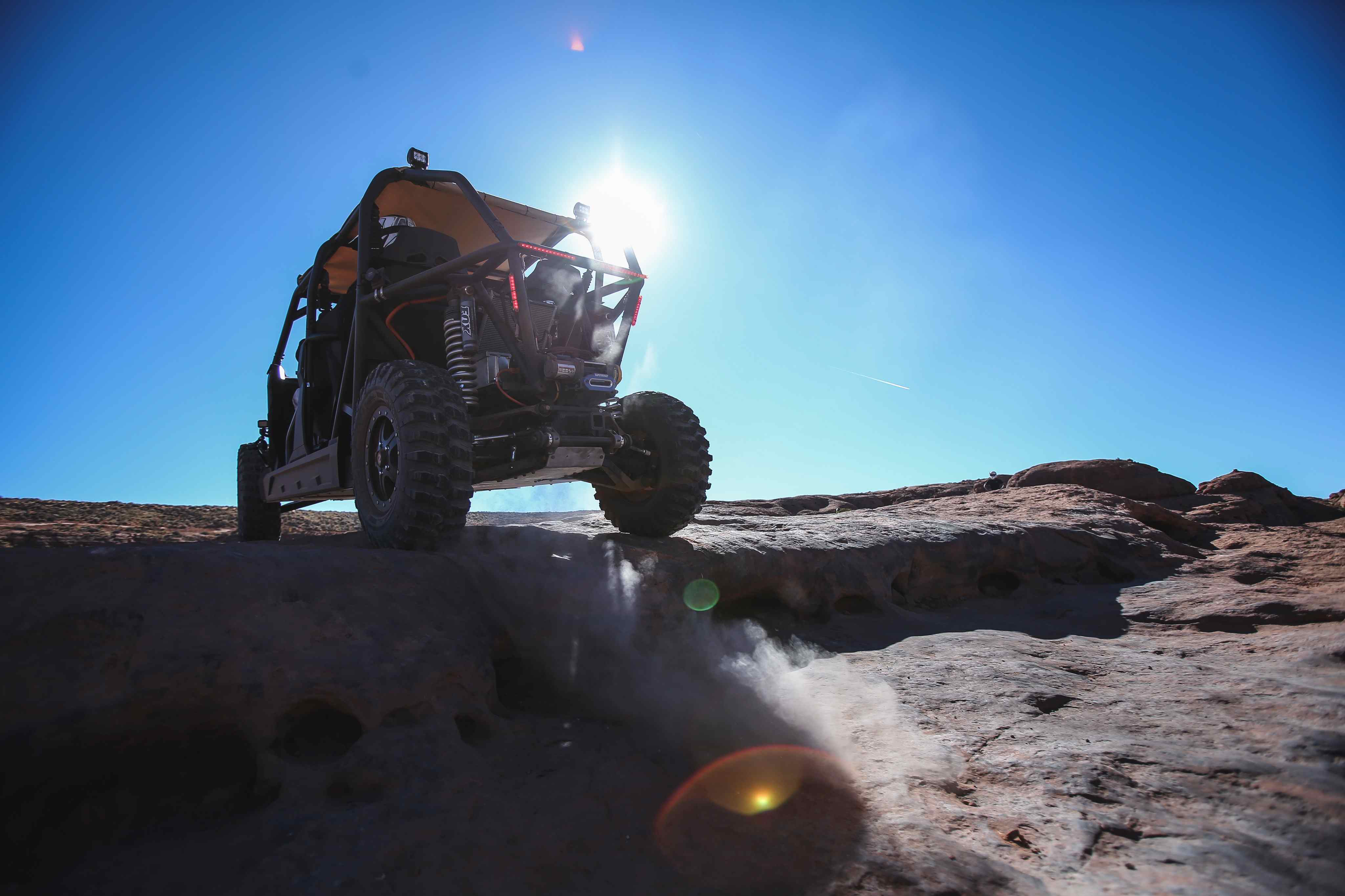 Nikola Motor Company (NMC) has positioned itself to rival electric auto-maker Tesla for the crown of trucking's King of Alternative Power, but much like Elon Musk and his various side businesses, Nikola founder Trevor Milton has also divested his team's talents.
Next year, NMC will debut its Nikola Zero utility vehicle (UTV), targeting military applications with its four-seat dessert runner.
Milton says secondary uses cover a range of work and recreation, including the mining segment which has increasingly turned to UTVs for their compact size and ability to handle aggressive terrain. However, deep in a mine shaft UTV emissions can be deadly.
Enter the all-wheel-drive Nikola Zero. The Zero squeezes upwards of 550 hp from its silent, emission-free, electric motors. That's more than three times the horsepower available from a Polaris RZR Turbo Fox.
Nikola's high-performance dune buggy is more than a plaything in a life-size sandbox. Milton says many of the elements his team used on the Zero – like its stability control, torque vectoring, over-the-air updates, autonomous software and hardware, steer by motor, and battery characterization – will make its way to the Nikola One tractor when production gets underway.
On a 46 mile trek through the St. George, Utah desert, the pre-production Zero absolutely obliterated every sandy dune and rocky ledge that was thrown in its path. And in a few cases, it dusted more well-known players in the segment like the RZR and Can Am.
Torque peaked at about 470 lb. ft. while scaling sheer ledges and navigating hairpin turns – no easy feat for a vehicle loaded down with 800-plus pounds of four grown men acting like kids in the dessert.
[rr-story-promotion id="158201″ align="center"]
There's so much power coming from each wheel that the UTV doesn't even need all four of them to operate. For example, in the event the user were to snap a rear axle and linkage, the Nikola Zero can still squeeze enough torque and power from what's left of the driveline to get the driver and his group back to basecamp.
Gear selection is made via a waterproof screen mounted to the dash, which also holds all the Zero's vital signs like remaining battery life and usage.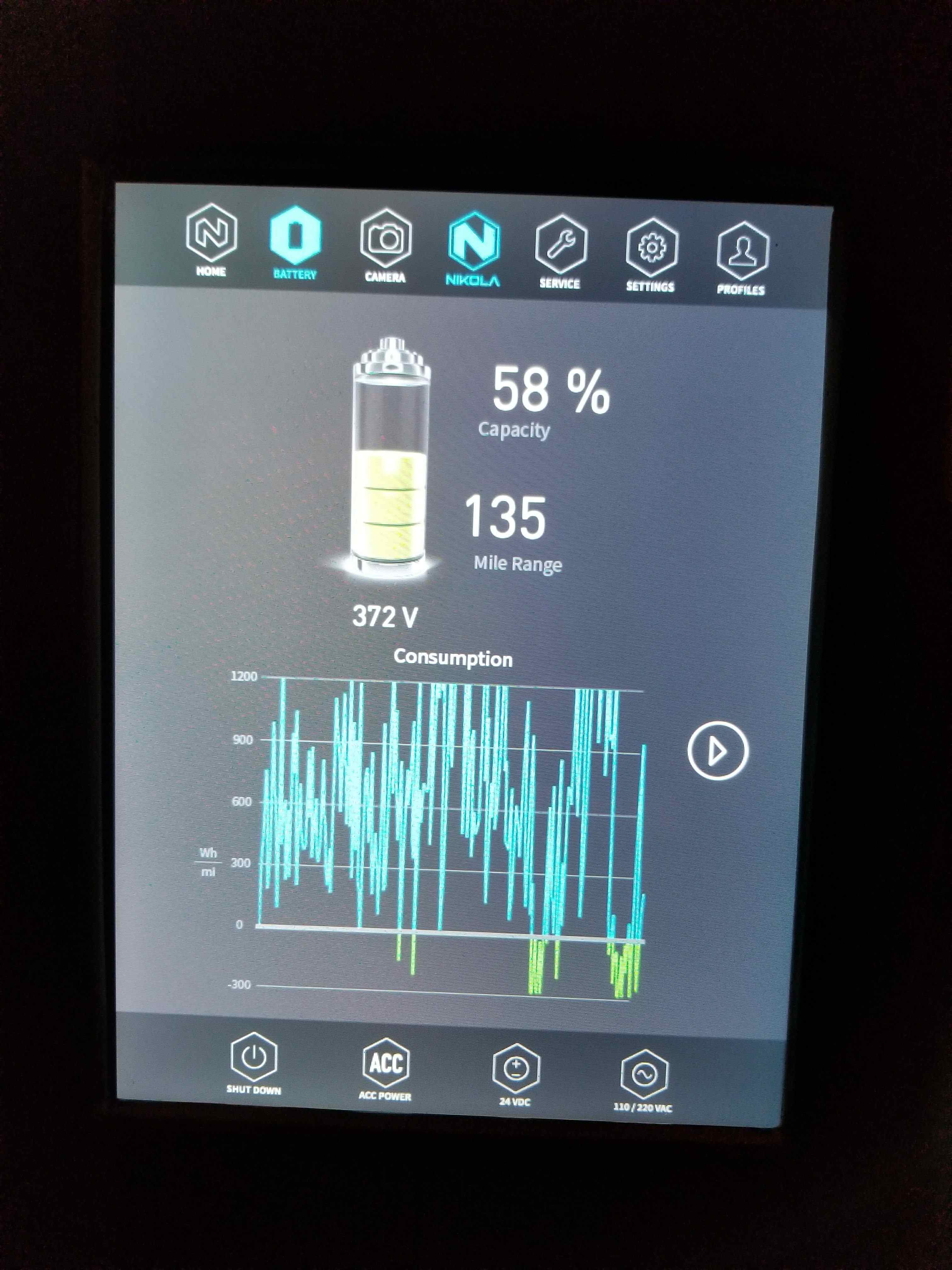 Battery usage varies. The more demanding the terrain, the more juice is needed to plow across it. Over the course of the day, we averaged about 740 Watt Hours per mile and used a total 34 kWh – about 33 percent of the battery's charge. At an average usage rate of 740 Watt Hours per mile, the electric Zero would give a user a range of about 130 miles.
Top speed on the trip was about 57 mph thanks mostly to the rocky and sometimes crowded terrain, but Milton says the Zero features a peak speed of 80.
We hit our top speed in 4.2 seconds while roaring through a sandy patch but Milton says the Zero is capable of a 3.9 60-time under better conditions, and I believe it. The Zero takes off like a missile.
The Zero's ride stance is 72-inches, making it measurably more narrow than other players in the UTV segment, and it provides 20 inches of travel. Its 14.5-inch ground clearance is about an inch and a half more than a Can Am Maverick and was more than enough to glide over most obstacles and debris.
The Zero's low center of gravity comes from its floor-mounted battery, giving the drive a sticky feel even in loose-traction conditions.
The battery, encased in a Kevlar-reinforced housing and floated in its enclosure, is further protected by a skid plate, which also acts like a battering ram during rocky climbing. It must have beat and clanged off the mountainside a half-a-dozen times, emerging each time no worse for wear.
Weekend warriors aren't known to be easily satisfied with stock side-by-sides, and the aftermarket for the Zero will need to develop. However, Milton says there are already plans in place to do just that.
Among the upfits Nikola expects to provide is a top-mounted solar panel that can charge the Zero, which can also power ancillary devices. Don't want to opt for the solar panel? You can charge the Zero with a generator.
Milton says common upfits like radios and lights would be a "fractional and inconsequential" drain on the Zero's range and battery life.
Nikola burst on to the trucking scene early last year with big power numbers and unconventional means of power delivery – namely a hydrogen fuel cell and electric drivetrain, and took a similar path roaring into the UTV segment. But if the performance of the Zero is an indicator of what Nikola's tractor could be capable of – a validation lab of sorts – trucking is in store for an equally exciting ride.