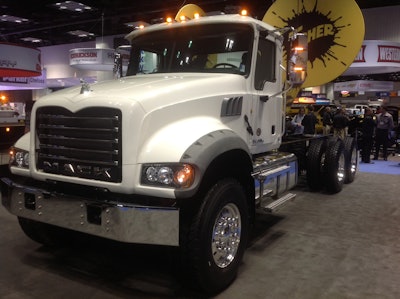 Mack Trucks is taking a more "proactive" approach to its relationship with body builders, and the reasoning is clear: Upfitting a commercial vehicle isn't as straightforward as it used to be, Mack's Curtis Dorwart explained to HWT during a chat at the company's display at the Work Truck Show on Wednesday.
Dorwart, refuse marketing product manager for Mack, noted that truck chassis have grown increasingly complicated since the 2007 introduction of DPF systems, followed by SCR technology and, more recently, the development of natural gas technology.
"These guys need a place to get answers," Dorwart says. "It's not like it was years ago: you drilled a couple of holes or you moved a component around. There are some things we really don't want them to move."
So Mack is making its Body Builder Manuals available as free downloads, a key step in the expanded support for the body-building community coming this year.
The documents, found under the "Parts and Services" tab of the website, offers general chassis information for Mack models, including the Mack Pinnacle, Mack Granite and Mack TerraPro models, built from 2010 through the present.
Additional electrical and programming documents have been added for 2013 and beyond, and are separately listed.
Included in the PDF downloads are online service and parts information, service bulletins, legacy information and a listing of Mack Trucks Academy online offerings.
Mack also has full-time staff dedicated to supporting body builder activity.
As for the trucks at show, the pair of Mack Granite medium heavy-duty 6×4 models are geared to specialty solutions – for customers looking for "the right-size truck with the right configuration for the right application," Dorwart explained.
The MHD model offers a lower-cost, lighter-weight option, without compromising Mack's durability and reliability, according to the company.
The models on display included a rollback, and another that could be upfitted for lightweight dump applications, or as a water tanker, Dorwart noted.
Both the Mack Granite MHD Axle Forward and the MHD Axle Back featured a Cummins ISL9 engine, rated at 345 hp and 1,150 lb.-ft. of torque paired with an Allison 3000 RDS six-speed transmission.
"These trucks are very well suited for the Work truck Show. The customer base and the attendee base is so knowledgeable and technically oriented – a lot of good-quality upfitters. The people here are real hands-on."