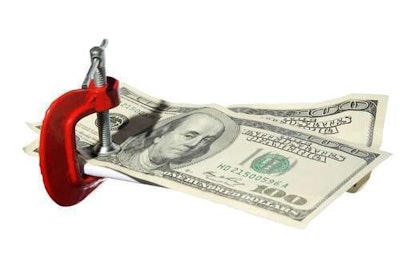 GE Capital Fleet Services says it identified $481 million in potential cost savings for customers in 2013, with customers realizing $209 million in actual savings as a result.
By analyzing customer fleet data, the company highlights areas for savings and has identified $1.2 billion potential savings opportunities for customers since 2011.
"We're seeing several trending opportunities for cost savings, particularly when it comes to companies leasing vehicles and right-sizing their fleets for maximum fuel efficiency," says Steve Jastrow, strategic consulting services manager. "With regard to vehicle cycling, fleet managers are increasingly conscious of taking advantage of the robust resale market and accelerated and optimal replacement strategies have been a big area of savings for fleets."
The largest areas of cost savings during 2013 were:
• Program Enhancements: Utilizing products and services to properly manage time and expenses including; maintenance, fuel, accident and safety costs, telematics, licensing and registration fees, and toll & violation expenses
• Accelerated and Optimal Replacement: Determining the optimal time to cycle vehicles and/or utilizing a short-cycle replacement strategy to decrease vehicle depreciation and capitalize on higher value at auction
• Lease Versus Reimbursement: Identifying cost-cutting opportunities to convert companies' driver reimbursement programs into vehicle leasing programs
• Lease Versus Purchase: Determining whether leasing or owning vehicles is the most cost efficient way to manage a specific company's fleet
• Right Sizing: Evaluating fleet needs and vehicle usage requirements to maintain a fleet that maximizes fuel cost savings while minimizing maintenance costs and deploying vehicles that better meet driver needs
In 2013, 43 percent of all identified cost savings were realized by customers, an increase of six points from 2012 indicating that fleet managers are more actively engaging in cost-cutting practices, the company notes.
This identified opportunity translates to $401 per vehicle across the 1.4 million vehicles under GE's fleet management in 2013.
In addition to replacing and leasing strategies, utilizing new products to improve operational efficiencies remains a major focus of fleets' cost savings strategy. Buoyed by a new suite of analytical tools released by GE Capital Fleet Services in November 2013, fleets have specifically focused on benchmarking performance in real time, optimizing fleet performance, and rightsizing vehicles via cargo rationalization.
"I believe we will see the trend towards predictive analytics continue in 2014," says Jastrow. "As we continue to launch new products and services that deliver incremental cost and productivity savings for our customers, capturing data from those programs will continue to give us insight and will allow us to further refine fleet performance."