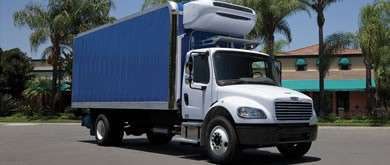 Daimler Trucks North America and its Freightliner brand finished 2013 with a 31 percent slice of the U.S. vocational market, company officials said at a press conference Tuesday in Cabo San Lucas, Mexico.
"For Freightliner, 'vocational' is defined by what we refer to as the '6 Super Segments,'" said David Hames, general manager, marketing and strategy for DTNA. "They include specialized haul, utility, food and beverage, government, refuse and construction. And all indications are that our penetration in those segments is growing."
Mark Lampert, retiring senior vice president, sales and marketing, noted the historical trends behind Freightliner's market leadership position are the result of strategic decisions dating back to the 1980s. Those long-term efforts are evident in the company's overall marketshare uptick of 4.2 percent in 2013.
The final tally for Class 6 through 8 units sold last year was 339,000 trucks, with 37.9 percent of those trucks wearing a DTNA badge, Lampert reported.
Hames added that he would like to see marketshare numbers hit 40 percent this year. And January orders have put the company on the right road in 2014.
"In that month, DTNA took in the highest number of truck orders than we have since 2006," Hames said. "So we are off to a very strong start in the new year."
DTNA says "vehicle integration" is the key to its future growth, as opposed to "vertical integration."
"To my mind, 'vertical integration' suggests a focus on what's good for the manufacturer," Hames said. "And 'vehicle integration' focuses on what is in the customer's best interest. And that is the philosophy that will drive our new product development moving forward."
See the original report from Jack Roberts on CCJdigital.com, HWT's sister site.