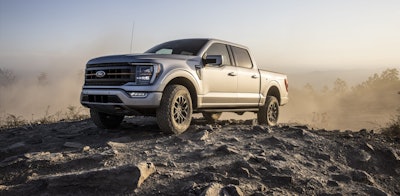 Pickups reigned supreme among auto sales in 2020 with the Ford F-150 nailing the top spots for both new and used vehicle sales.
A recent iSeeCars study looked at 12.9 million vehicle sales for 2020 and found that the Big Blue Oval's iconic F-150 took the top spots in new and used vehicle sales in the U.S. while Chevy Silverado came in second for new and used sales, the Ram 1500 took third for new vehicle sales and the Toyota RAV4 got third place among most popular used vehicle sales.
For those keeping score, five out of six spots were claimed by pickups. That's good news for OEMs which rake in higher profit margins for trucks. And it's even more good news for Ford which recently reported a 210% year-over-year increase in F-150 sales.
The study reported that the F-150 is the best-selling used vehicle in 31 of the top 50 metro areas and in 39 of 50 states. The F-150 is the most popular new vehicle in 25 of the largest metro areas and in 22 states.
Despite sales slumps brought on by COVID-19, iSeeCars reports that "financing deals on new cars and heightened demand for affordable used cars led to car purchases for many consumers."
Check out the entire study here.