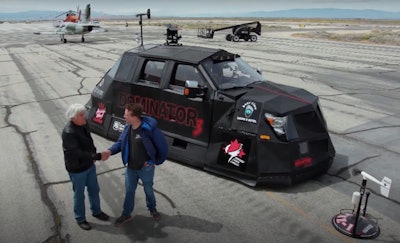 Try as you might searching construction sites, warehouses and highways the world over, it's unlikely you'll find another work truck quite like the Dominator 3.
Featured recently on Jay Leno's Garage, the 2013 Ford F-350 pickup turned tornado and hurricane lab on wheels provides a safe haven for popular storm chaser Reed Timmer and company.
Timmer, a meteorologist who makes his living chasing and reporting on America's toughest weather, told Leno that the truck's exterior has been beefed up with 16-guage Kevlar reinforced armor.
The 11,000-lb truck (up from a stock 6,000 pounds) rides on air suspension that allows it to drop straight to the ground where it's transformed into a protected dome that prevents air from traveling under the truck. Spikes can be hydraulically driven into the road to further anchor the vehicle.
The 400-hp 6.7-liter PowerStroke diesel and automatic transmission were left stock. What's not stock are the truck's high-tech, weather-reading instruments which all help drive up the cost. At $750,000, we sure hope that Timmer is getting a nice return on his investment.
Timmer recently reported from Hurricane Laura in Lake Charles, La. where his footage of a building being destroyed by heavy winds has so far racked up over 3 million views.
BREAkING! Buildings gutted in Lake Charles LA in powerful eye wall of #HurricaneLaura @RadarOmega_WX @ChasinSpin pic.twitter.com/wP3fPyREIZ

— Reed Timmer (@ReedTimmerAccu) August 27, 2020