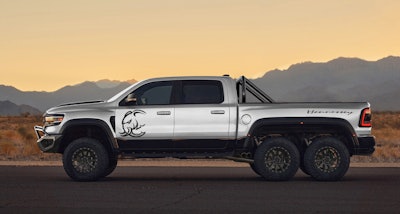 Got a half-million dollars and a hankering to be one of three people in the world to own a 1,200-hp 2021 Ram TRX?
If you move fast enough this week then you might get your chance as Hennessey Performance Engineering gets underway to build the biggest and most powerful truck in the company's 29-year history.
Hennessey Performance announced plans this week to build a 6X6 conversion of the 2021 Ram TRX pickup. However, the 702 bhp factory Hellcat supercharged V8 will be replaced by a specially tuned 7.0L Hellephant engine that will deliver over 1200 bhp.
Hennessey will only be building three Mammoth 6X6 Hellephant-powered Ram TRX trucks which will make it the most powerful and most exclusive truck ever offered by the company. It will also be the most expensive with a cost of $500,000 which includes the base Ram TRX.
"We are very excited about the Ram TRX," said company founder and CEO, John Hennessey. "Mammoth 6X6 powered by a 1200 HP Hellephant motor is just a completely ridiculous idea, which is exactly why we are doing this. We are only going to build three examples which will likely make this the most exclusive and most expensive truck we've ever built."
In addition to its all new 6-wheel drive and all new truck bed conversion, Mammoth 6X6 will have a fully upgraded off-road suspension, custom interior, upgraded front and rear bumpers with upgraded LED lights and more.
Hennessey will only accept orders starting on September 4, 2020 at 12 noon central time. Buyers must call 1-800-897-0426 to place their order.
Since 2017, the Hennessey team has built and delivered a total of 15 VelociRaptor 6X6 and Goliath 6X6 trucks to clients from around the world.