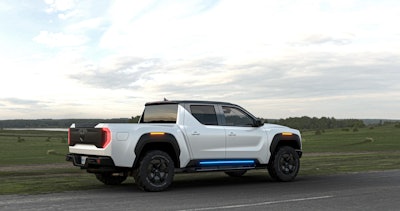 The Nikola Badger stands out in an emerging field of advanced powertrains because it's the only pickup to date that will offer two paths to zero-emissions: an all-battery electric powertrain and a hydrogen fuel cell hybrid.
Nikola will also be offering those powertrain options in its larger Class 8 trucks as part of its strategy to appeal to a broader range of duty cycles as fleets continue to strive for zero emissions.
Nikola believes all-electric with its additional battery weight and concerns over range is geared for less demanding work closer to home while fuel cells with far less battery weight can muscle up and offer much greater range and faster refueling for bigger jobs outside the nest.
So why Badger? As a pickup, it's a far cry from Nikola's hulking Class 8 tractors, which includes a cab-over design for Europe and North America. Nikola founder and Executive Chairman Trevor Milton answered that question and more.
Milton: The Badger is an incredibly exciting product line at Nikola. The semi-truck is where we make all of our money. The Badger is where we touch the consumer. It's where we get the emotional consumer involved in Nikola. We're smart enough to realize that to try and build and run your own (pickup) factory and to build out your service network is going to be a $5 billion dollar endeavor. That's insanity. There's no reason to do that. So, we've decided on a joint venture with an OEM. They're going to be producing our Badger on their assembly lines that are already existing with their employees that are already hired with their dealership network that's already trained and up and running. This allows us to beat all of our competition. We're going to absolutely whoop our competition because we're going to have complete market saturation almost immediately.
Dave Sparks, or Heavy D, of Diesel Brothers fame has long been known as one of the nation's top diesel advocates. Nonetheless, he signed on with Nikola to help develop the zero-emission Badger knowing all along that Milton has called for the death of diesel. (#DIESELISDEAD is trademarked by Nikola.) Sparks even posted a video saying that the time had come for him to embrace electric powertrains. So, how did this sea change and business partnership come about?
Milton: Dave Sparks and I have been friends for over ten years, way before he started his company. We've been friends for a long time. And what was really cool about that is that there's no one on this planet that can ever get Dave Sparks, or Heavy D, to get away from diesel except for me. Dave Sparks is very smart. He's one of the smartest guys I've ever met in marketing and advertising and social media—ever. Hands down. The most brilliant mind when it comes to that. What's interesting about that is that Dave looks at trucks as what is the most—you know it's all about performance. It's all about features. It's all about lifestyle. That's what he lives for. So, if you can build a truck that performs better than a diesel, can tow more than a diesel, has better features than a diesel, he's going to get behind it and that's what he did. We finally showed the world—with him—and he's helping us build this thing so that it doesn't fail. He knows how to break trucks. He knows how to break everything. He's a larger than life personality that is so well knowledgeable around trucks. Few people in this world know trucks as well as Dave does. So that's why we partnered with him. We said, 'You know what? Let's both get together. Let's build something that will withstand the abuse of truck owners.' And that's why I think people have rallied behind Nikola.
With two zero-emission powertrain offerings, the Badger looks promising on the commercial front.
Milton: That's the reason we went after the F-150. This is why I don't build cars. There's no money in cars. There is money in vehicles people need for work. So when you get up into the higher vehicles that people need for work, that's where your money is. We have a couple of fun projects on the side we do. They're not mass production, like our off-road vehicles. Those just touch the consumer and make them excited about our brand but the actual money-makers are where you have to use your vehicle for work. That's where you make your money.
Milton has big plans for Badger which includes edging Ford's iconic F-150 out of the spotlight.
I think we're going to take the crown from Ford F-150—there's no doubt. We're going to whoop 'um. And they have no idea of how to handle this right now. All the executives inside of Ford are freaking out about Nikola right now and this is what I love. We've got them on defense. They don't even know what to do. They can't act like us because they're a big company. They don't know how to handle the excitement that Nikola has.