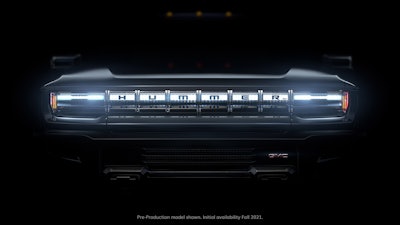 GM released more details on its upcoming electric trucks in its recent sustainability report.
A battery-electric truck bearing the Chevy name (no confirmation on whether that will be Silverado) will offer "400-plus miles of range on a single charge" while the GMC Hummer EV pickup will be rated at 1,000 horsepower with 11,500 lb.-ft. of torque capable of launching the truck from 0 to 60 mph in three seconds. Yes, you read that right: 11,500 lb.-ft. of torque.
GM's EV goals are part of what it calls its "all-electric future, with a commitment to 20 new electric vehicles by 2023 and plans for additional models taking us beyond that."
Look for the Hummer pickup at dealerships at the end of 2021. GM released a shot of Hummer's Quiet EV Revolution Grille shown above and a picture of its open-air cabin shown below. No word yet on a production date for Chevy's all-electric truck.