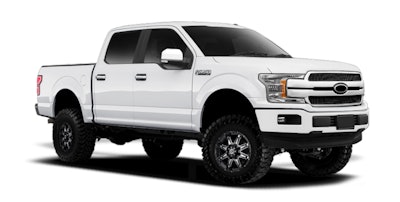 Though early research showed that repairing an aluminum body F-150 would cost more than steel, Ford has actually kept aluminum fixes on par with steel after changing costs on replacement body panels and shop repair equipment, according to the Highway Data Loss Institute.
However, HDLI, which supports research efforts at the Insurance Institute for Highway Safety, reports that while the cost for aluminum repairs hasn't risen, the time required for them appears to have gone up which could lead to higher insurance costs.
When Ford began building its iconic truck out of aluminum instead of steel, consumers had questions about the effect it would have on safety and their wallets. At the time, IIHS high-speed crash tests showed safety wasn't adversely affected, while a separate experiment showed repair costs were.
Damage to an aluminum-body F-150 from a low-speed crash turned out to be more expensive to fix than damage to an older, steel-body F-150 put through the same crash (see "Pricier repairs for aluminum F-150 than steel model in fender-benders," July 30, 2015).
Now HLDI has an update based on real-world claims data. In the four years since Ford introduced the aluminum-body truck, the change in material hasn't resulted in more costly insurance claims. That's likely a result of Ford's efforts to hold down the price of aluminum replacement parts and simplify repairs. At the same time, Ford has raised the prices of steel parts for older models.
HLDI analysts compared average loss payment per claim, or claim severity, under collision insurance, which covers damage to an at-fault driver's vehicle, for the aluminum-body 2015-16 F-150 and the steel-body 2014 model. They also compared 2015 and 2016 models of the Chevrolet Silverado 1500, GMC Sierra 1500 and Ram 1500 with their 2014 counterparts. Those pickups have kept their steel bodies.
Claim severity for each of the 2015 and 2016 models was higher than for the corresponding 2014 models, but the increase was smallest for the F-150. It rose less than 1 percent for 2015 models, compared with 5-7 percent for the other pickups. For the 2016 F-150, severity rose 4 percent over the 2014 model, while other 2016 models had claim severities 12-21 percent above their 2014 model year results.
These rising claim severities are consistent with data HLDI has collected on claims across all vehicles, which show that the average loss payment per claim has gone up in recent years. Given that the F-150's claim severity didn't rise as much as the severities for other pickups, the 4 percent increase for the 2016 model year is likely unrelated to the use of aluminum.
This result contrasts with an earlier HLDI study that looked at aluminum use in luxury vehicles and found it was associated with higher collision claim severity.
When Ford switched to aluminum for the F-150's body in a bid to shed pounds and improve fuel economy, it took measures to ensure repair costs wouldn't rise. To help make repairs simpler with lower labor costs, the company used a modular design. Ford also offered dealerships and body shops the chance to buy tools for repairing aluminum-body vehicles at a discount. Finally, it has lowered prices on many parts for the 2015-16 F-150 while raising prices for the same parts for the 2014 steel model.
However, despite the findings on claim severity, HLDI uncovered some evidence of other, hidden costs. It takes longer for loss information to accumulate for F-150 claims, and that is likely an indication that repairs are taking longer. That means F-150 owners have to make do for longer without their vehicles, and there are additional costs to insurers for rental vehicles. Although these delays decreased in the 2016 and 2017 model years, repairs are still taking longer for the aluminum truck than for the steel F-150 and for other models.
In addition, HLDI found that collision claim frequency is 7 percent higher for the aluminum F-150 compared with control vehicles. It's not clear what has caused that increase, but the aluminum-body truck may be more easily damaged than the steel one.
"Ford has worked to keep repair costs down for its aluminum-body truck," says HLDI Senior Vice President Matt Moore. "But unless other manufacturers take the same steps, there's no guarantee that these results will hold true for future aluminum-body vehicles from other manufacturers. In addition, the higher claim rates are concerning."