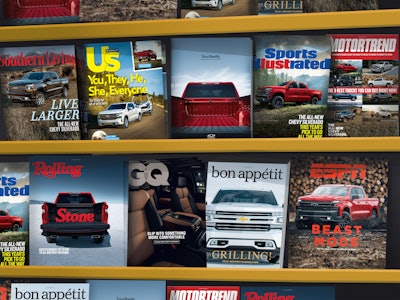 Tonight's NCAA championship football game, magazine covers, Amazon boxes, TV shows, the Daytona 500 and the list goes on…
Chevy's coming out swinging hard in 2019 to support the launch of its all-new Silverado.
Today marks the launch of the brand's most comprehensive integrated marketing and social campaign which is tailored to reach a wide array of consumers through traditional and digital media, unique integrations and creative content that features real truck owners.
The blitz began during the College Football Playoff National Championship between Alabama and Clemson with the debut of the new 60-second TV commercial "A Little Bit Country, A Little Bit Rock n' Roll" (see video below). Later that evening, the truck appeared in custom integrations on "Manifest" and
"Jimmy Kimmel Live!"
"In today's hyper-connected, always-on society, we knew the all-new Silverado launch campaign needed to be bold, engaging and comprehensive to break through the clutter while staying true to the brand's values and overall advertising approach," said Paul Edwards, U.S. vice president of Chevrolet Marketing. "Leveraging all the available channels — traditional and new — along with unique partnerships and integrations allows us to reach both traditional truck buyers and potential new customers who may be drawn to the versatility and lifestyle that comes with owning a pickup truck."
The comprehensive launch includes:
Three all-new TV, digital and cinema films will air in the first half of 2019:

"A Little Bit Country, A Little Bit Rock 'n Roll" This spot celebrates the fact
that the all-new Silverado is designed and engineered for all facets of America.
"Official Truck of Real People" showcases that the new Silverado is a truck
for every use, from work to play.
"Tailgates" Highlights the intersection of 100 years of renowned dependability
and truck expertise, punctuated by an industry-first, segment-exclusive power up/down tailgate.

Amazon: In a first for the automotive industry, the Silverado will be featured breaking through the traditional brown packaging on 7.1 million Amazon boxes. And Chevy owners can have their packages delivered to their vehicle through the Amazon Key In-Car Delivery partnership.
Custom Magazine Covers: Chevy partnered with several magazines to sponsor custom front cover designs. Magazine covers include Bon Appétit, ESPN, GQ, Motor Trend, Rolling Stone, Southern Living, Sports Illustrated, Texas Monthly and US Weekly.
Hotel Silverado: Chevrolet will showcase the versatility of the Silverado bed with a unique infield activation at the Daytona 500 called Hotel Silverado. Chevrolet partnered with the American Cancer Society to reward a deserving family with the once-in-a-lifetime experience of "camping" in the Daytona International Speedway infield — sleeping in specially outfitted Silverado truck beds. Also, for the first time ever, the Daytona 500 will be paced by a pickup truck. Dale Earnhardt Jr. will lead the crowd to the green flag in an all-new Silverado.
Homepage Takeovers: As part of the launch week, the Chevy Silverado will have a placement on the Amazon, Bleacher Report, USA Today, CNN and YouTube homepages.
HQ Trivia: In another automotive first, Chevy will sponsor the 9 p.m. EST game of HQ Trivia on Jan. 8. The game, themed "Truckin' Tuesday Trivia," will give players the opportunity to win $50,000 in the prize pool and a chance to win an all-new Silverado. Potsch Boyd, the moderator in Chevy's "Real People, Not Actors" commercials, will cohost the game with HQ's Scott Rogowsky.
"Jimmy Kimmel Live!": After the College Football Playoff National Championship, Jimmy Kimmel will broadcast live from Hollywood, California, with a custom integration featuring the Silverado.
Chevrolet created dedicated, in-language, Hispanic-market versions of the campaign
to help ensure Silverado maintains its position as the top-selling pick-up among
Hispanic buyers.
Additional integrations with Pandora radio, Turner Networks and "This Is Us" will roll out over the coming months.
Chevy says its 2019 Silverado is "the strongest, most advanced Silverado ever, delivering more capability and efficiency." Silverado offers more choice than its competitors with six powertrain options and eight trim choices, with each trim offering unique designs and capabilities to meet every need.
The all-new Silverado also features a segment-exclusive Durabed with:
Best-in-class cargo volume: The 2019 Silverado offers the most cargo volume in every bed length.
Higher-strength steel floor: As before, the Silverado has a roll-formed, high-strength steel bed floor.
More and stronger tie-downs: The Silverado now has 12 fixed tie-downs, and their strength has doubled to 500 pounds of force before bending. The Silverado also has nine moveable tie points for even more cargo flexibility.