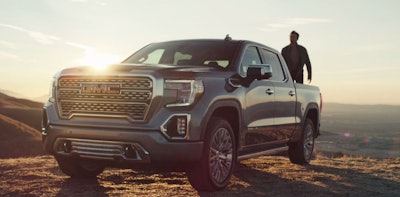 While the aluminum vs. steel vs. composite pickup bed wars drummed up plenty of attention in 2016, now GM is getting back into the ring with its latest tailgate.
The MultiPro tailgate, which GM advertises as the first of its kind in the world and available only on GMC Sierra, offers six functions and positions for enhanced second-tier loading, load-stop solutions and easier access to items in the cargo box, including:
Primary gate — opens from the key fob, from inside the truck or via a button on the gate.
Primary gate load stop — helps prevent items from sliding out of the box.
Easy access — the inner gate folds down, allowing a deeper reach into the box.
Full-width step — the inner gate folds into a large step for easy access and holds up to 375 pounds.
Inner gate load stop — helps prevent second-tier items from sliding out of the box.
Inner gate with work surface — when opened, provides a work surface as well as second-tier loading.
"It's time to say goodbye to obsolete tailgates and step up to the full-size pickup that epitomizes forward-thinking," GMC posts in its latest YouTube video which features an odd scene of folks marching while holding competitors' tailgates and singing Steam's classic "Na Na Hey Hey Kiss Him Goodbye." Take a look below and judge for yourself.