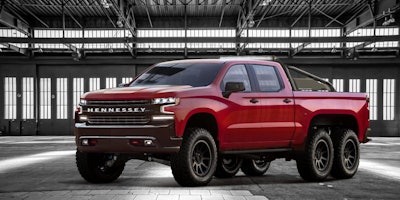 Hennessey Performance has added another 6×6 to its off-road lineup.
The Hennessey Goliath 6×6, based on the 2019 Chevy Silverado, is powered by GM's 6.2-liter V8 which gets some serious muscle from Hennessey's HPE700 Supercharger.
The 2.9-liter supercharger boosts the V8 up to 705 horsepower and 675 lb.ft. of torque.
Zero to 60 times are expected to be in the mid 4 second range even with the additional weight of the 6X6 conversion.
But if that's still not enough power, you could always opt for the 808-hp stroker motor upgrade and get the Brembo brake system and custom interior upgrades while you're at it.
For those keeping score—and who doesn't?—Hennessey's 6×6 VelociRaptor delivers 600 horses through Ford's 3.5-liter High-Output EcoBoost V6.
"We are very excited to offer our new Goliath 6X6 alongside our Velociraptor 6X6 truck," said company founder & CEO, John Hennessey. "These are very exclusive and unique vehicles that make a huge statement anywhere our clients go – whether its Rodeo drive or the sand dunes of the Sahara Desert."
Goliath 6X6 upgrades include:
6X6 Conversion with additional axle, wheels, tires and brakes
All-new rear suspension system
Eight-inch lift kit
Custom 6X6 truck bed
Hennessey 20-inch wheels
BFG 37-inch off-road tires
Goliath 6X6 & Hennessey graphics
Rollbar upgrade
LED lights
Hennessey front and rear bumpers
3-year / 36,000-mile warranty
The 2019 Goliath 6X6 base price of $375,000 includes the 2019 Chevy Silverado truck. Production is limited to just 24 pickups which are available directly from Hennessey or from select Chevrolet dealers. For more information, contact Hennessey Performance Engineering at 979.885.1300 or email at [email protected].