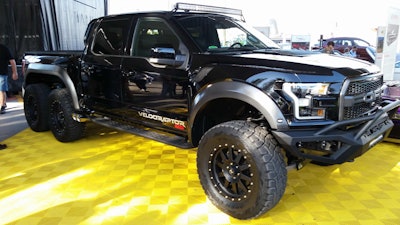 Besides adding a third axle, what's the most challenging part of building the three-axle 6×6 Hennessey VelociRaptor?
"It's all challenging," John Hennessey told Hard Working Trucks shortly after revealing his 2018 6×6 VelociRaptor at SEMA today.
The 600-hp truck is based on the Raptor F-150. The stock 450-hp 3.5-liter EcoBoost gets some help from upgraded twin turbos, front mounted intercooler, blow-off valve system, high-flow air induction system, stainless steel exhaust and custom ECU tuning.
The $350,000 VelociRaptor revealed today took nine months to build. Hennessey talked to Hard Working Trucks about the 6×6, including why he opted to take on such a challenging build. Check out the interview below.