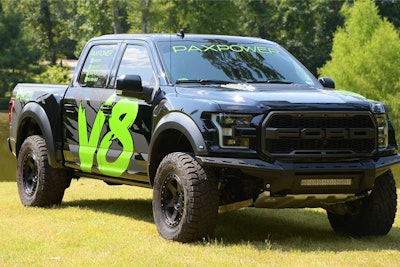 For those that are leaning towards the Ford F-150 Raptor but are holding out for a V8 option, a Texas-based performance company has stepped up to fill in the gap.
PaxPower recently unveiled its V8Raptor which has paired up a 758-hp 5.0-liter V8 with a Raptor-spec chassis, suspension and body conversion for the 2015-2019 Ford F-150. (Watch it do donuts in the video below.)
That unmistakable V8 growl which so many truck fans continue to favor over Raptor's 3.5-liter high-output V6 is accentuated in the V8Raptor courtesy of a 2.9-liter Whipple supercharger and dual-exhaust system.
"Incredible performance and sound, paired with the aggressive body and capable suspension of the Raptor, gives new meaning to the term 'muscle truck!'" PaxPower writes in its press release.
The conversion is done using all new Ford OEM parts, from fenders to fasteners. The suspension is changed out to Raptor-spec upper and lower control arms, front axle shafts, steering links, brake lines, sway bar setup, leaf springs, hardware, and, of course, the Fox internal-bypass shocks.
The body conversion includes the entire 2017+ Raptor body: fenders, hood, grilles, trim, aluminum inner and outer bed sides, fender flares, and accent lighting. The chassis is finished off with the customers' choice of bumpers, wheels, tires, or other upgrades. The installation of the V8Raptor suspension upgrade widens the track four inches for stability and lifts the truck five inches for maximum ground clearance.
The PaxPower prototype truck started life as a 2018 F-150 Platinum FX4, with the new-for-2018 5.0-liter Ti-VCT V8 engine, 10-speed transmission, and a 3.55 ratio electronic-locking rear differential. Starting with a Platinum F-150 meant that the truck had similar tech to a fully-loaded Raptor, but with the addition of Platinum-trim massaging seats and power-folding steps. One factor that makes a conversion like this feasible is that trucks like this go for $5,000-$10,000 under MSRP, as opposed to Raptors, which are often sold by dealers for over MSRP.
With respect to pricing for the V8Raptor conversion, packages start at $7,500 for the complete Raptor-spec suspension upgrade. Full chassis, suspension, and body conversions start at $25,000.
Conversions are done at PaxPower's Houston, Texas facility. Because the parts are OEM Ford, they carry Ford's two-year unlimited-mileage warranty, which includes labor to replace defective parts at your local dealer. A powertrain warranty is also available. For more information call 832-369-6852 or visit V8Raptor.com.