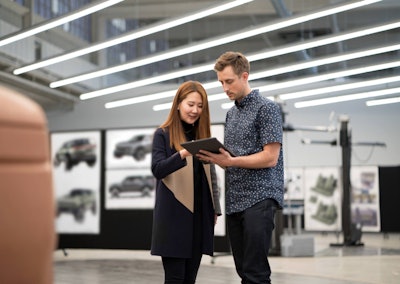 An EV startup that's been quietly at work for the past several years is getting ready to debut an 800-hp electric pickup at the Los Angeles Auto Show this November.
Rivian, which recently acquired Mitsubishi Motor's former manufacturing plant in Normal, Ill., will be unveiling its five-seat A1T truck with specs that will blow the doors off the vast majority of cars and pickups currently in production around the world.
Aside from hitting 0 to 60mph in 2.8 seconds, Rivian told Engadget that the truck is designed to drive through 3.6 feet of water and take on tough terrain pitched up to a 45-degree angle. Rivian also has plans to produce an SUV built on the same chassis.
No pictures of the pickup or SUV have been released. The closest we could find, shown above, were some blurry concept drawings in a photo featuring two unidentified employees posted on Rivian's Facebook page. However, Engadget was given a chance to see the truck sans camera at the company's design headquarters near Detroit.
"The A1T looks like a vehicle ripped straight out of Halo," Timothy Seppala writes in an article recalling his recent visit.
Range for the 800-hp version is rated at 450 miles while a base model 80kWh variant will deliver roughly 200 miles. Prices are expected to range from $50,000 to $90,000.
The pickup and the SUV, the A1C, are expected to launch in 2020.
Rivian, which also has locations in Irvine and San Jose, Calif., has attracted experienced auto industry talent including Jeff Hammoud, former chief of design at Jeep, and Mark Vinnels, former executive program director at McLaren.
Rivian was founded in 2009 by MIT graduate RJ Scaringe.