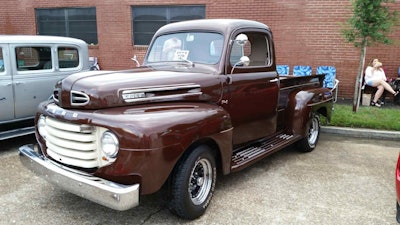 Ford's enjoyed a long run with its F-Series pickups, the first of which, the 1948 F-1, arrived at dealerships in early 1948.
HWT had a chance recently to see a 1949 F-1 and talk to its owner at a car and truck show in Lynn Haven, Fla.
Lowell Whittington explained that his old 1/2-ton workhorse has power steering, power brakes, a new wiring harness, new brake lines and–oh, yeah–a 302 under the hood.
Whittington said the previous owner took the powertrain from a 1979 Mustang and transplanted it into the F-1, giving it some more get up and go. As you can see in the pictures of the interior below, the 3-speed manual stick has been replaced with an automatic.
Whittington, who's in his 80s, has owned the truck for five years now. He built the seat base and put in a leather bench seat from a first generation Ford Explorer. The sharp pin striping is all his doing. It's hard to take your eyes off this truck–and who knows–maybe you'll see it at the Graceville Harvest Festival on Oct. 21 in Graceville, Fla. The festival is home to one of the largest truck and car shows in Northwest Florida.
Next week, we'll take a closer look at a 2000 F-150 SVT Lightning that's been given new life with some eye-catching exterior work and an impressively bold interior.