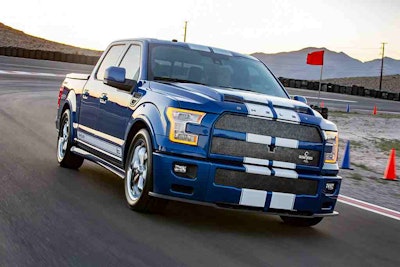 Shelby has made a bold return to the high-performance street truck niche with its 750-hp 2017 F-150 Super Snake.
Only 150 of the muscle trucks will be offered by select Ford dealers for the 2017 model year.
"Carroll Shelby was an early pioneer in high performance street trucks, beginning with his first production version almost 30 years ago," said Joe Conway, co-CEO of Carroll Shelby International and CEO of Shelby American.
"With the tremendous demand for our off-road focused Shelby F-150, fans of the classic Ford Lightning and our 2009 Shelby F-150 Super Snake have clamored for a new generation muscle truck from Shelby," Conway added. "Working closely with Ford Motor Company, Tuscany and other partners, we're going to offer a limited run of super trucks designed specifically for street duty."
The Shelby F-150 Super Snake will be available in two-wheel and four-wheel drive configurations starting at $96,880.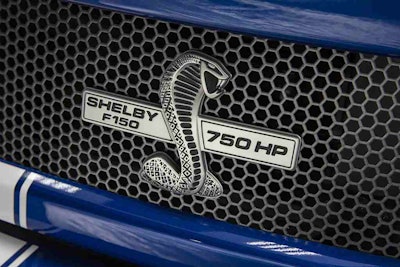 "The 'Shelby Super Snake' badge carries tremendous prestige because every vehicle that wears it represents the pinnacle of performance," said Gary Patterson, Shelby American President.
"Our new Shelby F-150 Super Snake is certainly worthy of the name. From the sharp handling suspension to the thundering 750 horses and pure American styling, it's a remarkable vehicle. One of our goals was to offer the truck in limited numbers to preserve exclusivity and potential collectability."
Based on the world-class Ford F-150, Shelby American collaborated with partners like Ford Performance and Borla to transform it into a Super Snake.
"This is simply an amazing truck to drive," said Vince LaViolette, Shelby American vice president of operations and chief test driver. "Lessons learned building the Ford Mustang-based Shelby Super Snake muscle car and the Shelby F-150 were applied to create this incredible street truck. True to Carroll Shelby's philosophy, it has more power, more sound, more styling and more handling prowess. From Detroit to Dubai and Dusseldorf, this is the ultimate expression of a high-performance truck available through a dealer."
Using the Super Snake blueprint for success, the team sharpened the handling of the award-winning Ford F-150's independent suspension. Under the hood, the F-150 Super Snake is powered by Ford's 5.0-liter V8 engine with a supercharger to pump out over 750 horsepower.
The Shelby F-150 Super Snake wears unique Shelby styling designed to enhance the lines of the truck. It features a new hood, rockers, spoilers, grills, rear bumper panel and tonneau cover. Additional styling cues also include Shelby Super Snake stripes and badges. Inside, the theme continues across the seats, dash and floor.
The Shelby F-150 Super Snake is available in six Ford factory colors and comes with a 3-year, 36,000-mile warranty. Each vehicle is assigned a genuine Shelby serial number that is documented in the official Shelby Registry.
For more information about the all-new Shelby F-150 Super Snake, visit www.Shelby.com.