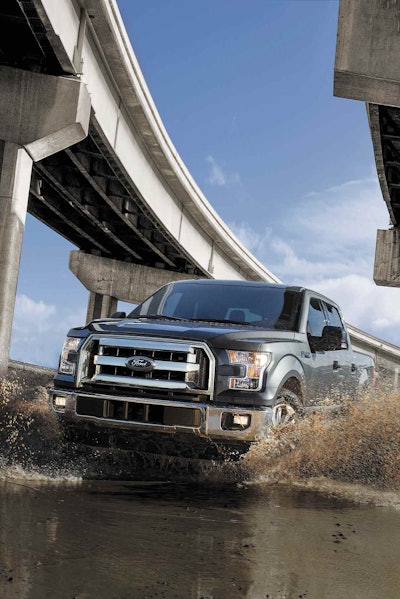 The 2017 Ford F-150 earned a Top Green Vehicle award for its best-in-class gas fuel economy from AAA Green Car Guide.
The 2017 F-150 4×2 with 2.7-liter EcoBoost V6 returns 19 mpg city and 24 mpg highway, which is best-in-class gas fuel economy. EPA shows the 2017 F-150 as the most efficient standard-size pickup, with a 19 mpg city, 26 mpg highway and 22 mpg combined rating.
EPA still has not released fuel efficiency numbers on the 2017 Ram 1500 EcoDiesel. The agency gave the 2016 model top marks in its class with 21 MPG city, 29 MPG highway and 24 MPG combined.
"Many drivers need the flexibility of a larger vehicle, but still want to make a green choice," said Megan McKernan, manager, Automobile Club of Southern California's Automotive Research Center. "AAA awarded the Ford F-150 XLT the 2017 pickup category winner in the AAA Green Car Guide for its best-in-class fuel economy, great visibility, spacious interior and exceptional handling."
While gas prices are 40 percent lower than five years ago, consumer interest in fuel-efficient vehicles remains high. A survey from AAA shows fuel efficiency remains a major purchase consideration for all U.S. drivers, with 70 percent rating it an important factor.
Ford continues to innovate with a variety of powertrain and fuel-saving options. These include the first 10-speed automatic transmission on a production truck, and standard Auto Start-Stop technology for improved fuel economy.
Winning Top Green Vehicle from AAA Green Car Guide comes on the heels of F-Series also earning best truck value from Kelley Blue Book and F-150 4×2 was named the American Council for an Energy-Efficient Economy (ACEEE) Greener Choice award, the only full-size truck in the council's Greener Choices list. These, among other recognitions highlight Ford's yearlong celebration of F-Series as the best-selling truck in the U.S. for 40 consecutive years and the best-selling vehicle in the nation for the past 35 years. Join the #40YearsTough celebration at www.40YearsTough.com.