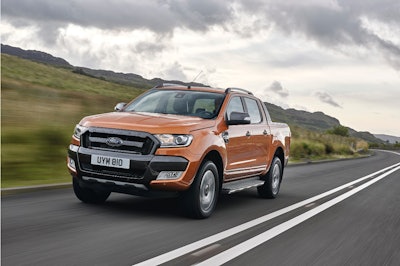 Ford's announcement that it would dust off shelved Ranger pickup and Bronco SUV programs for the 2019 and 2020 model years was met with resounding applause from Hard Working Trucks readers.
"About time," says HWT commenter John Bell. "We have plenty of customers that want the smaller vehicle."
Bell says his company sells "plenty" of Ford's Super Duty and F150s to the oil industry and Ranch industry in West Central Texas.
Another commenter, Ben Asare, already has a couple requests for Ford's Ranger and we don't even have a rendering of what a U.S. model may look like yet.
"Can the Ford Ranger comes in 4 door cabin, probably similar to the Toyota Tacoma or Nissan Double Cabin pickup," he asks. "There can be both four and six cylinder engines in both."
Commenter Capeford also had a few design tips.
"I do like the extended cab version. Very useful without shortening the bed. I would recommend that the back door windows be movable (manual or electric) for air circulation and of course the dog's head."
HWT readers are also curious to learn more about the diesel-equipped 2018 F-150.
"Let's see…what fleet packages will be offered? Will we be able to get just the XL with diesel with tow package? Or, will we be stuck buying the many extras that fleet owners do not want? Like heated seats, electric mirrors, key bobs etc. All which add tens of thousands of dollars to the vehicle. Ford, please go back to basics so the working man does not have to pay a second mortgage payment for a truck," writes Chris G. in the comments section below the story.
Following Chris's comment, reader Anthony Bulygo writes, "Amen."
HWT reached forwarded Chris' comment to Ford for feedback.
"We'll have more details to share closer to launch," said Mike Levine, Ford product communications manager for North America.