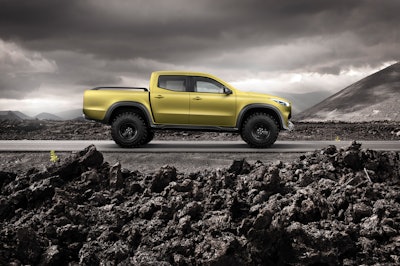 Two Mercedes-Benz X-Class pickup concept vehicles, which were unveiled today in Stockholm, Sweden, may be headed for the U.S.
The mid-size trucks, one dubbed Stylish Explorer and the other Powerful Adventurer, will be available with a V6 diesel engine.
The one-ton pickups will be launched in late 2017 around the world. The key markets will be Argentina, Brazil, South Africa, Australia with New Zealand and Europe. Though a distribution map shown during Mercedes live webcast on Tuesday did not include North America, Fox News is reporting that a representative with the automaker told the media outlet that the trucks are now under consideration for the U.S. market.
"With the Mercedes-Benz pickup, we will close one of the last gaps in our portfolio," Dr. Dieter Zetsche, board chairman of Daimler AG and head of Mercedes-Benz Cars, said during the reveal. "Our target: we want to offer customers vehicles matching their specific needs. The X-Class will set new standards in a growing segment."
During the 20-minute webcast, Zetsche talked about his love for pickups and recalled working in South America in the 1980s where he said he encountered one of his favorite Mercedes: 'La Pickup' 220D, a short-lived truck produced in the 1970s by Mercedes in Argentina that resembles a Chevy El Camino and Ford Ranchero.
"I simply love La Pickup and I remember seeing some of these cars out on the streets during my time in South America during the late eighties," Zetsche said. "I guess it wasn't the toughest pickup ever, from a technological point of view, and it wasn't a great success from an economical point of view either, but it grew a huge fan base. Many people shared my fascination for a Mercedes pickup since that time."
The new X-Class trucks are serious, mid-size competitors. Mercedes partnered with Nissan to develop the trucks, which feature ladder-type frames and seating for up to five.
A V6 diesel engine works in combination with a 4MATIC permanent all-wheel drive, which combines an electronic traction system, a transfer case with reduction gear and two locking differentials.
The traction system and the electrically operated on-demand differential locks channel the power to where traction is best. Under extreme off-road conditions, the rear differential and the inter-axle differential can be locked.
Payload capacity is rated at 2,425 pounds and towing capacity at 7,716 pounds. The specially constructed suspension features wide axles, a five-link rear axle with coil springs and a precisely calibrated spring/damper set-up designed to provide a comfortable ride on- off-road.
The Concept X-Class Powerful Adventurer stands at a height of 6.2 feet and rests on 35×11.50 tires. The brand's hallmark SUV radiator grille with two louvres, front and rear underride guard, wing claddings, and matte carbon wheel arches additionally underscore the off-road aesthetics. An electric winch at the front and a metal hook at the rear also hint at additional off-road capabilities.
The interior is all Mercedes: nubuck and nappa leather, open-pore smoked oak trim and brushed and polished aluminum trim elements.
"As an added value we bring safety, comfort, agility, and expressive design – in other words, everything that distinguishes vehicles bearing the Mercedes star. We will thus appeal to new customers who have not considered owning a pickup before," says Volker Mornhinweg, Head of Mercedes-Benz Vans.
Mercedes-Benz Concept X-CLASS stylish explorer – Interieur, Kombination aus weißem Nappaleder und braunem Nubukleder ;

Mercedes-Benz Concept X-CLASS stylish explorer – Interior, Mix of white nappa leather and brown nubuck leather;
Mercedes-Benz Concept X-CLASS stylish explorer – Exterieur, Weißmetallic ;

Mercedes-Benz Concept X-CLASS stylish explorer – Exterior, White metallic;
Mercedes-Benz Concept X-CLASS powerful adventurer – Interieur, Kombination aus schwarzem Nappaleder in Glanzoptik und schwarzen, geprägten Lederflächen im Carbon-Stil, Akzente in der Farbe des Exterieurlacks (Lemonaxmetallic) ;

Mercedes-Benz Concept X-CLASS powerful adventurer – Interior, Mix of glossy black nappa leather and carbon-style black embossed leather surfaces, Highlights in colour of exterior paint finish (lemonax metallic);
Mercedes-Benz Concept X-CLASS powerful adventurer – Exterieur, Lemonaxmetallic ;

Mercedes-Benz Concept X-CLASS powerful adventurer – Exterior, Lemonax metallic;
Mercedes-Benz Concept X-CLASS stylish explorer – Exterieur, Weißmetallic ;

Mercedes-Benz Concept X-CLASS stylish explorer – Exterior, White metallic;
Mercedes-Benz Concept X-CLASS stylish explorer – Exterieur, Weißmetallic ;

Mercedes-Benz Concept X-CLASS stylish explorer – Exterior, White metallic;
Mercedes-Benz Concept X-CLASS powerful adventurer – Exterieur, Lemonaxmetallic ;

Mercedes-Benz Concept X-CLASS powerful adventurer – Exterior, Lemonax metallic;
Mercedes-Benz Concept X-CLASS stylish explorer – Interieur, Kombination aus weißem Nappaleder und braunem Nubukleder ;

Mercedes-Benz Concept X-CLASS stylish explorer – Interior, Mix of white nappa leather and brown nubuck leather;
Mercedes-Benz Concept X-CLASS powerful adventurer – Interieur, Kombination aus schwarzem Nappaleder in Glanzoptik und schwarzen, geprägten Lederflächen im Carbon-Stil, Akzente in der Farbe des Exterieurlacks (Lemonaxmetallic) ;

Mercedes-Benz Concept X-CLASS powerful adventurer – Interior, Mix of glossy black nappa leather and carbon-style black embossed leather surfaces, Highlights in colour of exterior paint finish (lemonax metallic);
Mercedes-Benz Concept X-CLASS / Artipelag / Stockholm 2016 / von links nach rechts: Gorden Wagener (Leiter Design Daimler AG), Dr. Dieter Zetsche (Vorstandsvorsitzender der Daimler AG und Leiter Mercedes-Benz Cars) und Volker Mornhinweg (Leiter Mercedes-Benz Vans) bei der Enthüllung des Mercedes-Benz Concept X-CLASS ;

Mercedes-Benz Concept X-CLASS / Artipelag / Stockholm 2016 / from left to right: Gorden Wagener (Head of Design Daimler AG), Dr Dieter Zetsche (Chairman of the Board of Daimler AG and Head of Mercedes-Benz Cars) and Volker Mornhinweg (Head of Mercedes-Benz Vans) at the reveal of the Mercedes-Benz Concept X-CLASS;
Mercedes-Benz Concept X-CLASS stylish explorer – Exterieur, Weißmetallic ;

Mercedes-Benz Concept X-CLASS stylish explorer – Exterior, White metallic;