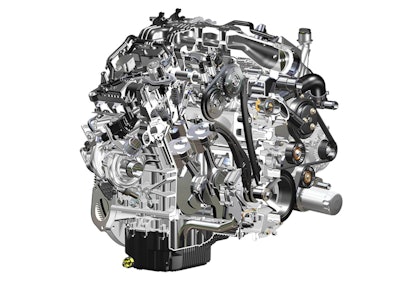 The wait is over.
Ford revealed Tuesday details on its upcoming second-generation 3.5 liter EcoBoost engine, namely that the updated powerplant will provide 30 lb.-ft. more torque than first-generation models. That's a best-in-class 450 lb.-ft. for a V6 – gasoline or diesel – for those of you keeping score at home.
"The powertrain is the heart of every F-150, and together our all-new 3.5-liter EcoBoost and 10-speed transmission will give our customers better power, efficiency and confidence," says Raj Nair, Ford executive vice president, Product Development, and chief technical officer.
Ford engineers say the new 3.5-liter EcoBoost engine – whose power rating is unchanged from 365 hp – was designed to provide better low-end and peak engine performance, ideal for hauling heavy payloads and towing heavy trailers. Featuring an all-new dual-direct and port fuel-injection system, the new engine gets two injectors per cylinder – one mounted in the intake port where air enters the cylinder and one positioned inside the cylinder – working together to improve power output, efficiency and emissions.

New turbochargers, with improved twin turbos and a lighter turbine wheel, deliver more boost and work with electrically activated wastegates, enhancing operating efficiency. Light-weighting the turbine wheel – by making it out of high-temperature super alloy Mar-M-247 developed by the aerospace industry – improves responsiveness, Ford adds.
Hollow camshafts in the roller-finger follower valvetrain help save up to 4 pounds of weight, while the valvetrain also features more durable intake and exhaust valves, and hydraulic valve-lash adjusters that optimize engine durability over the life of the truck.
The new 3.5-liter EcoBoost engine comes with fuel-saving anti-idle feature Auto Start-Stop as a standard feature, contributing to a reduction in CO2 emissions due to decreased idle times. Auto Start-Stop is specially tuned for truck customers, shutting off the engine when the vehicle is at a stop – except when towing or in four-wheel-drive mode.
Ford expects to turn the corner on sales of 1 million F-150 EcoBoost engines this summer, with the 2.7-liter and first-generation 3.5-liter accounting for approximately 60 percent of F-150 sales to-date. Ford's 2.7-liter EcoBoost was the number one selling engine in the F-150 lineup in April with 32 percent of sales.
All-new 10-speed transmission

The new 3.5-liter EcoBoost engine will be paired with a new 10-speed transmission across the F-150 lineup for 2017, with the 2.7 liter EcoBoost and Ford's V8 offering other gearboxes.
Ford says the new 10 speed delivers improved acceleration and performance compared to previous six-speed automatic transmissions thanks to optimized wide-span gear spacing, coupled with drag-reduction actions.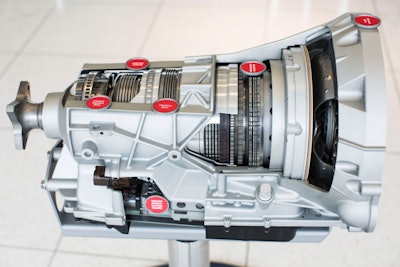 Three overdrive gears and a wider ratio span enable lower-numerical rear-axle ratios to help improve fuel efficiency at highway speeds, while maintaining best-in-class towing.
The 10-speed transmission uses advanced materials and alloys – and zero cast iron, a first for a Ford transmission – to save weight.
An integrated torque converter/turbine clutch also helps shed more than two pounds, while also reducing the packaging footprint.
Smarter shift logic helps 2017 F-150 customers tow with improved confidence using tow/haul mode. All-new real-time-adaptive shift-scheduling algorithms monitor more than a dozen powertrain- and driver-control signals to ensure the right gear at the right time for an engaging driving experience, including in sport mode.
An integrated electric pump works with the standard Auto Start-Stop system for seamless restarts and improved driving efficiency, according to Ford.